What 'Microhoo' means for Google
Analysts are divided on whether the Microsoft and Yahoo combination can hurt Google, but most agree that Google is safe in its top spot.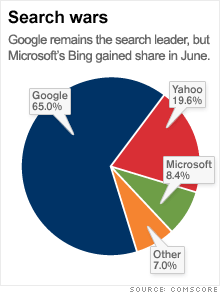 NEW YORK (CNNMoney.com) -- "Microhoo" is finally a done deal, but will it really be able to make a dent in Google's enormous search market lead?
It's a difficult feat for sure. Google maintains 65% of the U.S. search market, compared to a combined 28% for Microsoft and Yahoo. But the newly partnered tech giants are hoping that one plus one equals more than two.
"This deal is really about scale," said Yahoo (YHOO, Fortune 500) Chief Executive Carol Bartz on a conference call. "By combining the ... technology of both companies, we can create a real, viable alternative for advertisers."
In other words, size really matters to advertisers in the search market. More data means more relevant searches and ads, which means more money can be charged to advertisers.
It's a fact that Microsoft (MSFT, Fortune 500) CEO Steve Ballmer said unfairly benefits Google (GOOG, Fortune 500), as many ad companies were less willing to deal with Microsoft or Yahoo because each maintained a tiny fraction of the market compared to the search leader. But Ballmer said a combined effort "provides consumers and advertisers ... with a real No. 2 advertiser in search."
"It's reasonable logic that two is better than three," said David Smith, analyst at Gartner. "The big picture is reaching a critical mass -- the way advertising works is through a positive feedback loop, where the bigger you get, the better you get."
Smith said that Google has carved out such a dominant share of the market that there's nowhere to go but down if competition ramps up from its biggest rivals.
Not No. 1, but strong No. 2. Even if Microhoo doesn't make a run at the top of the search market, some argue that the deal is good for both firms, advertisers and consumers.
"Overall, the deal makes sense," said Shar VanBoskirk, search market analyst at Forrester Research. "It potentially creates synergies between the two firms -- each had a gap the other one could fill -- to create another one-stop-shop and a stronger second-place player."
VanBoskirk said the consumer experience on Yahoo.com and Bing.com will improve, because data sharing will help Microsoft and Yahoo better customize content for each user. And with more relevant ads, advertisers will get more clicks and a better return on their investment.
Furthermore, VanBoskirk said the partnership will free up development talent to improve Bing's "decision engine" technology, which provide information on when airline prices will increase, what hotels to book and what to shop for.
"Google is a great search engine, but the next wave of search will be more than just finding Web sites," she said. "Both Bing and Yahoo try to do that, and the partnership will help them develop the online concierge experience that they offer."
In the end, VanBoskirk said the combined Microsoft and Yahoo search engine could cut Google's 37-point market share lead to just 15 points.
Nothing to see here? Some analysts aren't convinced that the deal will really make a difference.
"The amazing thing about this deal is how little impact it has," said Carl Howe, analyst at Yankee Group. "Search rankings won't change, advertising rates will continue in a downward spiral and the regulatory hassles involved will benefit the very beast they're hoping to bring down: Google."
Howe argued that Google is so massive, that all a combined deal would do is create a singular, distant No. 2 search company (Microhoo) rather than a distant No. 2 (Yahoo), and an even farther-away No. 3 (Microsoft).
Furthermore, all three companies have said that advertisers are paying less and less per click as the Internet becomes saturated with advertisements. If that trend continues, which Howe believes it will, then the deal doesn't do much to help either Microsoft or Yahoo.
And, as both Microsoft and Yahoo expected, the antitrust battle has already begun. Senate Antitrust Subcommittee Chairman Herb Kohl, D-Wis., said Wednesday that his panel will closely review the proposed deal.
"The deal between Yahoo and Microsoft -- industry giants and direct competitors in Internet advertising and search markets -- warrants our careful scrutiny," said Kohl. He said the deal has "potentially far-reaching consequences for consumers and advertisers," including "dampening the innovation" in the tech industry.
Google didn't offer much insight into its thoughts on the deal. "There has traditionally been a lot of competition online, and our experience is that competition brings about great things for users. We're interested to learn more about the deal," the company said in an emailed statement.

Features

These Fortune 100 employers have at least 350 openings each. What are they looking for in a new hire? More

It would be the world's second-biggest economy. See how big companies' sales stack up against GDP over the past decade. More