AIG logs first quarterly profit since 2007
Troubled insurer, which still owes U.S. taxpayers $87.6 billion, warns results will remain volatile as it sells assets to repay the loans.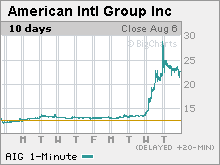 NEW YORK (CNNMoney.com) -- AIG may have reported its first quarterly profit in nearly two years on Friday, but the company still has a long way to go before it can repay the billions of dollars it owes U.S. taxpayers.
AIG continues to lose insurance business, albeit at a slower clip than in previous quarters, even as the insurer cut premiums.
"The earnings are there, but the operational issues, which are really what the heart of this problem is, still have to be worked on before AIG can get any money back to the government," said Andy Barile, chief executive of insurance consultant Andrew Barile Consulting Corp.
The insurer said its second-quarter net income was $1.8 billion, or $2.30 per share, after six straight losing quarters. A year ago, it lost $5.4 billion, or $41.13 per share.
The last time the troubled insurer reported a profit was in the third quarter of 2007, when it earned $3.1 billion. AIG lost $99 billion last year and $4.4 billion in the first quarter of 2009.
Sales rose 48% to $29.5 billion in the second quarter, up from $19.9 billion a year ago.
What AIG still owes. The company owes U.S. taxpayers $87.6 billion, which it plans to pay down by selling off non-core assets and stakes in three huge subsidiaries.
So far this year, AIG has sold just $2.6 billion worth of assets, which it will use to pay down its sizeable debt to the government.
With asset sales moving slowly, the company has agreed to sell stakes in two of its foreign life insurance subsidiaries to the government this quarter. In exchange, the Fed will forgive $25 billion of its $44.8 billion loan to the insurer.
But AIG Chief Executive Edward Liddy, who is retiring, warned that sales of those giant subsidiaries would make future financial results more volatile, due to restructuring charges. With an expected before-tax charge of $5 billion for those sales, AIG could wind up swinging back to a loss in the third quarter.
Still struggling. Even as AIG works on paying down its loan, it continues to borrow. The insurer dipped into a previously unclaimed pool of government assistance in the second quarter, borrowing $1.2 billion from a second $30 billion TARP loan to prop up its domestic life insurance unit's capital reserves.
AIG failed to pay dividend payments on its first, $40 billion TARP loan last quarter. Unlike most of the preferred shares issued under TARP, the AIG shares are "noncumulative" -- meaning that the company can skip dividend payments without the obligation to make up the difference later. But, if they miss three more payments, the U.S. government can assign two more handpicked directors to the company's board.
The company is also struggling to wind down the sizeable financial products division (FP) that brought it to the brink of collapse in September. AIG has managed to reduce FP's derivative portfolio by 17% in 2009, but the portfolio still stands at $1.3 trillion.
Eye on the ball. Still, AIG's ability to turn a profit, despite continued stress in the financial markets, is encouraging.
Shares of AIG (AIG, Fortune 500) soared 11% in morning trading, after rocketing higher this week, nearly doubling in anticipation that the company may turn a profit.
"While our insurance companies' operating results remain challenged, largely driven by weak economic conditions and the lingering effect of negative AIG events earlier in the year, performance trends stabilized from the first quarter," said Liddy.
Liddy said the company, despite some setbacks, remains focused on repaying the taxpayers, though the time frame is still uncertain.
"We remain focused on the overriding goal of putting AIG in the best possible position to meet our obligations to stakeholders, including U.S. taxpayers, by protecting and enhancing the value of our businesses," Liddy said. "The time frame and path for achieving this goal will continue to be highly dependent on market conditions."
Liddy has previously stated that he expects AIG to pay back the government loan in three to five years.
Still, the controversy over the company's millions of dollars worth of bonus payments lingers, as AIG awaits a review from the Obama administration's pay czar, Kenneth Feinberg. AIG has said the bonus debate has hurt its ability to retain key personnel, which will impact its ability to recover.
AIG's board of directors on Monday selected former MetLife (MET, Fortune 500) CEO Bob Benmosche to replace Liddy. Former American Express (AXP, Fortune 500) CEO and current AIG board member Harvey Golub was named non-executive chairman late Thursday. Benmosche and Golub will take the reins on Monday. Liddy had jointly held the CEO-chairman roles.

Features

These Fortune 100 employers have at least 350 openings each. What are they looking for in a new hire? More

It would be the world's second-biggest economy. See how big companies' sales stack up against GDP over the past decade. More