Smartphone showdown
Our fearless reviewer cheats on his beloved BlackBerry.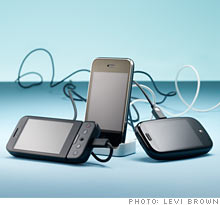 LOS ALTOS, CALIF. (FSB Magazine) -- Whenever I look at shiny new smartphones, I experience a "boys and their toys" moment and have to keep myself from drooling. But as the author of The Recession-Proof Business and founder of VictorCheng.com, a Website that provides business training to entrepreneurs, I feel obligated to take a more serious approach. Sleek handsets come and go, but what matters most is the operating system, the software that will run mobile devices now and in the future. Apple (AAPL, Fortune 500), Palm (PALM) and Google (GOOG, Fortune 500) have all recently launched new mobile operating systems: OS 3.0 for the iPhone, WebOS on the Palm Pre and Google's Android system, which comes preinstalled on the HTC G1 from T-Mobile.
Your choice could affect you for years to come. Think of the hassle of moving contacts, memos and other information from your current operating system. I use a BlackBerry Curve 8330. If I'm going to adopt a whole new phone OS, it had better make me more efficient, more productive and less stressed than my BlackBerry does.
After days of walking around with three smartphones crammed into my pockets as if I were a shoplifter, I realized that the big difference in operating systems isn't just what they can do -- they all cover the basics of contact management, e-mail and scheduling pretty well -- but how they do it.
At first I thought the Palm WebOS would be my winner. It allows you to have multiple applications open simultaneously -- say, your calendar, notepad, contact list and e-mail. The iPhone can't do that. WebOS is clearly intended for business power users. If your top client calls to reschedule an appointment, then asks you a question about an e-mail from two days ago, you can change your calendar, review the old message and talk all at the same time. Brilliant! WebOS works with both Palm touchscreens and the Palm Pre's slide-out keyboard. That's important - for heavy e-mail users like me, it's far easier to tap out tons of e-mail on physical keys than on a touchscreen keyboard.
Unfortunately, WebOS got one major thing wrong: its Web browser. Because smartphone screens are far smaller than computer screens, it's impossible to view an entire Web page at once on any of these phones. Apple, Google and Palm all let you zoom in and out of a page. But I found Palm's zoom tool confusing. If you tap the touchscreen twice where you want to see more detail, WebOS will double the size of that part of the page. If you tap it twice more, it will either zoom out to the original size - or zoom in again for a 4x magnification. I couldn't control it.
Zooming wasn't the only problem. WebOS often made it hard to do what I wanted. When I wanted to change a preference in the e-mail or calendar applications, for example, I had trouble finding the right buttons or menus. They never appeared in the first place I thought to look. I have never been so riled up by an operating system, with the exception of Windows.
Next I tried Google Android, installed on the HTC G1 smartphone from T-Mobile. Within five minutes I was impressed. Google loves to keep things simple online, and it clearly used the same approach with its mobile operating system. Data synchronization was quick and easy. I loved how Android lets you scroll down a window at multiple speeds, depending on how fast your finger moves across the touchscreen.
Like Palm, Google allows you to input information from a physical keyboard as well as the touchscreen. Unlike Palm, it lets you flip the phone sideways to work in widescreen, which feels much more roomy when typing. Android is also the only OS that supports the use of a trackball.
Trouble is, Android phones are clearly intended for Google lovers. You can't use the operating system until you've set up a Google account. That's because Android's calendar and e-mail functions are powered by Google Calendar and Gmail, both Web-based applications. Google will let you use other calendars, and you can download your e-mail from your ISP in a separate app. But Android strongly discourages you from doing so -- this feature is disabled by default.
Unlike Apple and Palm, Google doesn't provide users with access to a large directory of applications made by third parties. The idea seems to be that it isn't necessary to use software and services from any company other than Google.
Finally, I tried Apple's iPhone OS 3.0 -- the operating system that comes standard on the new iPhone 3GS. (You can download it for free on older iPhones too.) Intuition rules on this OS. For major applications like e-mail, contacts and calendar, the most commonly used features are displayed very prominently, making it pretty much idiotproof. Less commonly used features, such as setting preferences, are no more than one screen away. And previous issues with the iPhone OS have been fixed in version 3.0; you can now cut and paste text, for example.
In many ways an operating system is only as good as the applications it enables. So it's hard to deny the importance of Apple's massive library of third-party apps -- 50,000 of them at last count. I was able to find applications for everything from customer-relationship management to overnight package tracking to personal time management.
As many users have pointed out, the iPhone is more than a smartphone; it's really a very small computer. In theory I might be able to leave my laptop in the office and just travel with the iPhone instead -- if it weren't for the keyboard problem. I have very large thumbs and can't type my own name on an iPhone touchscreen without making five typos. Given that I tap out lots of e-mails on my phone, this was a deal breaker.
Bottom line: Until the iPhone OS supports a physical keyboard, I'm picking Android as the winner. But I do so reluctantly. Even though the Google OS meets all of my needs, it's the iPhone OS (with a keyboard I can actually use) that I keep thinking about. If Apple ever shipped such a thing, I'd drop my BlackBerry in a heartbeat. I guess you can keep a boy away from his toys for only so long.

To write a note to the editor about this article,
click here
.