Bigger paychecks on a comeback
Almost half of employers in survey say they will roll back salary reductions in the next six months, while one-third will lift pay freezes.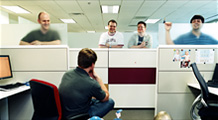 Free beer, generous vacation leave, and a say in company decisions - see how 7 innovative companies are inspiring workers and boosting the bottom line.
Millions of job openings!
NEW YORK (CNNMoney.com) -- More employers are planning to reverse pay cuts and other employee cutbacks, another sign that the employment picture is improving, according to a survey released Thursday.
The percentage of employers who will reverse pay cuts jumped to 44% in August from 30% just two months ago, consulting firm Watson Wyatt said.
About one-third of companies plan to unfreeze salaries within the next six months, up from 17%, according to the report that surveyed 175 large employers.
"Some employers are seeing the light at the end of tunnel and feeling optimistic," said Laura Sejen, a director at Watson Wyatt, in a statement..
Almost one-quarter of employers plan to reverse reductions to 401(k) match contributions in the next six months, up from just 5% in June.
However, health care did not fare as well. The survey found 66% of companies that increased the percentage employees pay for health care premiums do not expect to reverse that decision.
And 40% are planning to increase the percentage employees pay for health care premiums. About the same number expect to increase the deductibles, co-pays or out-of-pocket maximums for 2010 health care plans.

Features

These Fortune 100 employers have at least 350 openings each. What are they looking for in a new hire? More

It would be the world's second-biggest economy. See how big companies' sales stack up against GDP over the past decade. More