Consumers not feeling a recovery
Surprise drop in July retail sales and an unexpected decline in Wal-Mart's same-store sales show Americans still aren't in the mood to spend.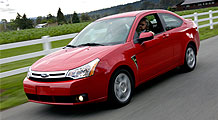 These are the most popular cars purchased under the Cash for Clunkers program.
NEW YORK (CNNMoney.com) -- Two key reports Thursday showed one thing: happy days are not here again for American consumers.
Retail sales fell in July after two straight months of gains, the government reported Thursday, a drop that surprised economists. Without car sales from the "Cash for Clunkers," the numbers would have been even worse.
And Wal-Mart (WMT, Fortune 500), the world's largest retailer, reported an unexpected decline in its key measure of U.S. sales.
"From a consumer finance position, people are still struggling," said Scott Hoyt, senior director of consumer economics for Moody's Economy.com. "Wages have fallen from the previous year and consumers don't [still] have alternative sources of cash."
Consumer spending fuels two-thirds of all economic activity in the United States. So even though an economic recovery could use people splurging on coats, bags and shoes again, Hoyt said it's unlikely that consumers are going to lead the nation out of this recession.
"There will have to be other areas providing the lift to the economy such as business investment and inventory levels," Hoyt said
Reality check: The Commerce Department said total retail sales declined 0.1% in July, compared with June's revised gain of 0.8%. Total sales were originally reported to have increased 0.6%.
Economists surveyed by Briefing.com expected June sales to increase 0.7%.
Sales excluding autos and auto parts also registered an unexpected decline of 0.6%, compared to a revised 0.5% increase in the measure in June. Sales, excluding autos, were originally reported to have increased 0.3% in the prior month.
Economists had forecast a gain of 0.1% in July sales, excluding auto purchases.
"This is awful. A reality check for the green shooters," Ian Shepherson, chief U.S. economist for High Frequency Economics, wrote in a note Thursday
"The big story is the core [retail sales]. Excluding autos, gas and food, sales fell 0.4%. That's the fifth straight decline," Shepherdson said. "People are cash-constrained and credit-starved. Remember, their spending accounts for 89% of private sector GDP."
While the Cash for Clunkers program did create some "healthy" demand for new automobiles "there were widespread declines everywhere else," Hoyt said.
Excluding a 2.4% gain in automobile sales and a 0.6% gain in clothing purchases in the month, most other retail categories suffered sales declines.
The government report showed building materials sales fell 2.1%, electronics purchases fell 1.4%, department store sales slumped 1.6% and sales at general merchandise stores declined 0.8%.
Furniture sales fell 0.9% and sales at food and beverage sellers declined 0.3% in the month.
Commerce Secretary Gary Locke said in a statement Thursday that, despite the slight decline in retail sales, the Obama administration remains "encouraged that the Recovery Act and other economic initiatives have stabilized conditions and helped those harmed by the economic crisis."
"The road to recovery is long, but with every recovery dollar we spend and project we start, we are one step closer to getting there," he said.
Weakness at Wal-Mart: The much worse-than-expected government report followed a worrisome quarterly report from Wal-Mart in which the discount giant logged an unexpected 1.2% drop in its second-quarter same-store sales.
Bentonville, Ark.-based Wal-Mart said it earned 88 cents a share in the three months ended July 31 compared to 86 cents a year earlier.
The earnings were at the high end of Wal-Mart's own forecast range of between 83 cents and 88 cents, and topped analysts' consensus expectations of 86 cents a share.
Wal-Mart's revenue for the quarter decreased 1.4% to $100 billion, which the retailer blamed on the negative impact from exchange rate fluctuations.
Analysts surveyed by Thomson Reuters had forecast an increase of 1% in same-store sales.
Given Wal-Mart's dominance in the retailing industry, and the fact that more than 200 million consumers shop at its stores every week, the seller is seen as a barometer of the health of the consumer and of the economy.
While most of its peers have been struggling to grow sales through the recession, Wal-Mart's been one of the lucky few that has grown its market share, as more consumers across all income levels trade down in their discretionary purchases to its value prices.
From April 2008 to April 2009, Wal-Mart reported 13 straight months of same-store sales gains. The company stopped reporting monthly same-store sales in May, moving to a quarterly reporting of its comparable sales.
To that end, last quarter's same-store sales decline marks the first drop in that measure for Wal-Mart in more than a year.
Not worried: However, Wal-Mart executives said in a statement that the company's quarterly performance "has been good, despite headwinds from price deflation, the effects of the recession and currency exchange rates."
"Even though our comparable sales were lower than we had expected, we believe our comparable sales outperformed the retail sector almost in every place that we do business," Wal-Mart CEO Mike Duke said in the company's pre-recorded call to discuss its results.
Duke also said Wal-Mart saw increased foot traffic in its U.S. stores last quarter. The company said its expects third-quarter same-store sales for the 13-week period from Aug. 1 through Oct. 30 to be between flat and up 2%.
For his part, Hoyt said he's not too surprised by the drop in Wal-Mart's same-store sales. He pointed out that the retailer got a big sales lift in the same period last year from the government rebate checks that were given to consumers in an attempt to boost spending.
Last year, Wal-Mart offered free rebate cash checking in its stores in an attempt to grab a bigger share of the rebate money, a strategy that helped pump up its same-store sales 5.8% in June and 3% in July.
"The stimulus that consumers got this year was not concentrated in one quarter but was spread out over the last nine months," Hoyt said.

Features

These Fortune 100 employers have at least 350 openings each. What are they looking for in a new hire? More

It would be the world's second-biggest economy. See how big companies' sales stack up against GDP over the past decade. More