Banks wary of small business ARC loans
The loan volume is picking up for the Small Business Administration's new emergency lending program, but relatively few banks are making the loans.
Photos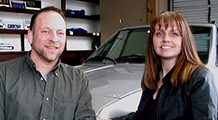 Map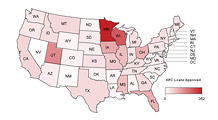 The government's America's Recovery Capital (ARC) loan program aims to help struggling small businesses. Here's a look at which banks are making the loans.
View Map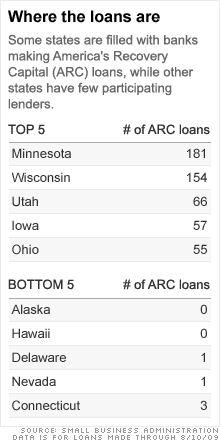 Photos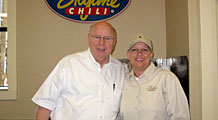 NEW YORK (CNNMoney.com) -- More than 1,000 emergency loans have been granted to struggling companies since the Small Business Administration launched the much-anticipated America's Recovery Capital program in mid-June, according to a lending tally released this week. While the list confirms that the program is likely to hit its goal of making 10,000 loans by the time it ends in late 2010, it also reveals that banks are still cautious about participating.
Around 400 lenders are currently making ARC loans, out of 8,200 FDIC-backed banks in the U.S. That relatively small number would carry more weight if it included top-tier SBA lenders with national reach. But only three of the SBA's 10 most active lenders this year -- Wells Fargo, PNC Financial and Zions Bank -- have issued ARC loans.
The SBA's data also revealed a striking geographic disparity. Two Midwestern states, Minnesota and Wisconsin, each have scores of participating lenders and have together generated 28% of the ARC loans made to date. By comparison, 14 states, including Alabama, Oregon and South Carolina, each have fewer than five lenders participating in the program.
Lenders have been hesitant since the ARC loan concept first surfaced as part of February's stimulus bill. The program makes interest-free loans of up to $35,000 available to business owners to temporarily relieve them of payments due on other debts. The SBA is fully insuring the loans, meaning that if the business defaults, the government eats the debt. The agency is also covering the interest on the loans, paying banks two percentage points over the prime rate.
Although the loans are 100% guaranteed for banks, they're still risky. The SBA is forecasting a 56% default rate. Small, low-interest loans like these aren't particularly profitable for banks, considering the time required to vet applications and manage the loans, and if a loan turns bad, pursuing reimbursement from the SBA consumes more administrative resources. Lenders are also concerned that their repayments will be turned down on technicalities if they've left anything amiss in the paperwork.
"We are still working to determine whether we will participate in the program," said Bank of America (BAC, Fortune 500) spokeswoman Anne Pace. "It will require some changes to our infrastructure, which takes time and are costly, so we need to evaluate whether it makes sense for us or if there's something else we can offer customers that would be more worthwhile. We think that by the end of the month we will have an answer."
While Bank of America is not a top-10 SBA lender this year, it has a much wider reach than the regional and community banks that dominate the ARC loan list. But even smaller banks have been slow to make these loans.
In Connecticut, for example, there are only three participating lenders, each of which has made one loan since the program's inception. Bob Polito, senior vice president of one of those lenders -- Webster Bank, in Waterbury, Conn. -- was one of the few bankers who had been eagerly awaiting the program. His biggest worry back in June was that Webster Bank wouldn't be able to accommodate the rush of demand.
"We've screened hundreds of applications from customers and non-customers alike," he said. "All need the help, but few qualify."
Wells Fargo (WFC, Fortune 500) has had a similar experience. The bank has received 17,000 calls about ARC loans and has approved 31 of them, according to Tom Burke, the bank's senior vice president of SBA lending. Three have received SBA approval, and one loan has closed. The rest are pending.
The SBA's guidelines for the program are restrictive. Borrowers must have been in business for at least two years and be cash-flow-positive in one of the last two years. They also need to demonstrate financial hardship, such as a revenue drop of 20% or more. Finding businesses that are healthy enough to qualify for ARC loans but damaged enough to need them has proved challenging.
Zions Bancorp (ZION) of Salt Lake City, one of the SBA's most active lenders, has approved loans in Idaho, Oregon and Utah. Lori Chillingworth, senior vice president of business banking at Zions, said that about half the calls she gets regarding the ARC loans are from business owners who are not eligible.
"One of the qualifications teeters in a gray zone, because they have to be suffering from financial difficulty but also have to be viable," she said. "It's is a fine line to walk to get that correct small business owner. But when we can identify them, it's a huge burden that is off their shoulders."
Chillingworth said her bank is committed to ARC loans despite the program's hassles.
"It's a lot of paperwork for the bank and borrower and, because of the volume, it has slowed our processing time for all the loans in our pipeline," she said. "But we never went in thinking that this would be a money-maker. We went in thinking that it will benefit the bank because it generates customer loyalty. Plus, isn't the bank better off if it can help that customer and not have to deal with delinquencies or liquidating the client?"
Tom Burke of Wells Fargo said that his bank spends as much time on paperwork for a $35,000 ARC loan as it would for a $1 million traditional SBA loan. "The paperwork and the process are extremely tedious," he said. "This makes the program burdensome for the applicant and the lender."
Wells Fargo is one of the rare banks willing to take ARC applications from businesses that don't have an account at one of its branches. Webster Bank has taken the more common route of restricting the loans to existing customers looking to pay down debts the bank already holds. "It's unseemly to us that a non-Webster Bank customer wants an ARC loan to pay an obligation to another bank," Polito said. "When we explain it, the prospect completely understands."
Some of those prospects have turned into new customers for Webster, even though the bank won't extend them an ARC loan. "What we have offered these applicants is a chance to refinance the other bank debt at Webster Bank," he says. "Some have taken us up on it as they come to realize that their bank won't help them, while we are willing to discuss alternatives."
Zions trained all of its lending officers on the ARC program before its implementation, familiarizing them with the SBA guidelines and asking them to reach out to small business owners in their portfolios who might qualify. That meant tapping customers who might not qualify for other types of loans. But Chillingworth was eager to take on the additional risk.
"Other lenders may worry that there won't be a 100% guarantee if they didn't document the loan correctly, and that's a huge problem, but I don't think that's a problem with the ARC loan program -- that goes much deeper with the SBA," she said. "I know there may be a larger default rate, but I believe that with the support of the SBA, the reward is still worth it. One of our customers started crying and said, 'This is just what I needed,' so, really, it is rewarding for us."

To write a note to the editor about this article,
click here
.