Space elevator chase yields Earthly rewards
NASA has $4 million on the line for inventors creating the technology that could one day link Earth to the stars.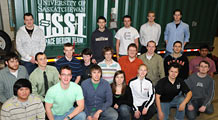 NASA has put up $4 million in prizes for inventors who create the building blocks for an aerospace breakthrough. Meet 4 teams competing in this year's Space Elevator Games.
NEW YORK (CNNMoney.com) -- On an April day in Boulder, Colo., Michael Laine sat onstage in front of a large audience, struggling to hold back tears. That afternoon he was supposed to be presenting to the attendees of the Conference on World Affairs, but at the moment, Laine was finding it hard to concentrate. "Two hours ago I lost a $3 million building," he declared to the room. "And now I don't have a place to live."
It was the seventh time Laine had gone into foreclosure in just five years, all in pursuit of an entrepreneurial dream. Always before, he'd managed to raise the cash to buy his office building -- also his home and only source of income -- back at auction. This time, he was out of luck, as was the nine-employee company, LiftPort, that Laine financed almost entirely by leveraging his property.
Two years later, Laine still doesn't regret the obsession that led him to repeatedly default on his mortgage and gamble the $140,000 he received in rental income each year. "I could have retired at 35 with a lifetime income," he says. "Or I could build an elevator to space."
Laine is one of the most devout proponents of the sci-fi phenomenon known as the space elevator -- an as-yet hypothetical alternative to rockets -- but he's not the only entrepreneur inspired by the idea. This week's fifth annual Space Elevator Conference, sponsored by Microsoft (MSFT, Fortune 500), is bringing a host of academics, space enthusiasts and small business owners to Redmond, Wash., to discuss everything from the technology to the regulatory framework required to build a giant elevator to space.
The conference will be closely followed by the Space Elevator Games, parts of which take place at NASA's Dryden Flight Research Center in the Mojave desert. Teams of scientists, tinkerers and entrepreneurs will gather to test out technologies that could one day lift riders through the Earth's atmosphere toward the stars.
Space elevators may sound like the stuff of science fiction, but there's cold, hard cash attached to the race to build one. NASA's Centennial Challenges program has put up $4 million in prize money for teams that successfully conquer the Games' two key engineering competitions, and large companies are keeping a close eye on the innovative technologies created by competitors in the power beaming challenge, which requires teams to remotely power a robotic vehicle using a laser.
"The Games push the envelope. We're intrigued by power beaming, which could provide new market development opportunities for us," says David Marcotte, customer relations manager at Trumpf, the giant German laser manufacturer that is providing high-powered lasers for the Games.
Since as far back as the late 19th century, scientists and science fiction writers have theorized about building a structure that reaches from Earth into geosynchronous orbit. But it was a young Russian engineer, Yuri Artsutanov, who first described the science and imagined a space elevator in a 1960 article: "The electric train gives a last whistle, slowly picks up speed and darts vertically upward on the web of delicate threads."
Put simply, the contraption would be made of an incredibly strong yet thin cable anchored to the Earth's surface near the equator and attached to a counterweight in space. The Earth's rotation would keep the cable taut, in much the same way as if you were to spin around while holding a piece of string attached to a ball. An electric carriage powered by a laser and the sun (liquid fuel or batteries are too heavy) would move up and down cable, carrying people or equipment more than 22,000 miles into space.
The space elevator is thought to be theoretically possible, but the practice of actually building one isn't so straightforward. Carbon nanotubes, synthetic carbon molecules thought to be light and strong enough to form the cable, have yet to be produced on a large scale. Power beaming technology -- using lasers and solar cells to transfer electricity across a large distance -- is still in its infancy.
But the potential of those nascent technologies was enough to inspire Laine, a former Marine, to create Bramerton, Wash.-based LiftPort in 2003. His goal: to coordinate research on all the technologies required to build a space elevator.
"I didn't want to do anything else," he says. In the four years before Laine lost his building and main source of funding, LiftPort worked with various universities to research high-altitude balloons, robotics and nanotechnology.
His case may be extreme, but Laine isn't the only entrepreneur willing to throw time and money into developing the futuristic technologies required for the space elevator. In 2005, Silicon Valley nonprofit The Spaceward Foundation (motto: "The future is closer than it appears!") launched the Space Elevator Games to advance research on power beaming and on new materials such as carbon nanotubes.
This year's competition will have two parts. The Power Beaming Challenge in Mojave, Calif., requires teams to build a laser-powered robot that can climb one kilometer up a cable at a minimum speed of two meters per second. (The competition was scheduled for early August, but when the cable snapped off the underside of the helicopter holding it up, the event was postponed until a safer attachment could be found.)
In late August, another set of contestants is expected in Seattle for the Tether Challenge. To win, they'll need to produce a cable that is at least 50% stronger than the "house" tether, made of Zylon, the trademarked super fiber used to protect drivers in Formula One racing cars.
In the three prior Games, the last held in 2007, no team succeeded in either competition. But each year, the performance requirements become more demanding and the quality of the entries gets better.
"When this thing started in 2005, the [power beaming] teams were using parts you could buy off the shelf," says Ted Semon, a space elevator enthusiast and blogger. "Those teams are now having to push their suppliers to do more cutting-edge stuff."
A testing ground
LaserMotive, one of the few for-profit companies competing in the Games, is among those pushing the boundaries. Made up of a motley crew that includes physicists and small business owners, the Kent, Wash., startup plans to use the competition to show off its innovative system for transferring electric power through a laser beam. It's a system team members say could soon be used in everything from aerospace work to mobile electronics.
After a disappointing debut in 2007, when last minute tweaks caused LaserMotive's system to fail a final qualification test, the team is hoping that years of hard work and tens of thousands of dollars of personal investment will finally pay off. LaserMotive has already qualified this time, and its members are optimistic about their chances of winning the $2 million prize for conquering the power beaming challenge.
"I see the space elevator games as a business opportunity," says Jordin Kare, a rocket scientist and cofounder of LaserMotive who serves as a staff inventor at Bellevue-based Intellectual Ventures Laboratories. "It provides a high visibility kick-off for a startup like us."
LaserMotive has some heavy-hitting sponsors behind it. Its high-efficiency solar cells were designed on spec by Boeing (BA, Fortune 500) subsidiary Spectrolab, and the two high-powered diode lasers it uses to power its robot were provided by German laser manufacturer Dilas at a significant discount. But many of the system's parts had to be developed from scratch by the team members, including a patent-pending photovoltaic technology invented by Kare.
The result is a series of remote-controlled mirrors and lenses that guide a laser beam so that it hits a kind of solar panel, which is attached to a small, lightweight robotic vehicle. The solar cell converts the laser beam into electricity, which is used to power the motor of the robot so that it can climb the cable. Kare believes technology based on this system could revolutionize the aerospace industry, powering unmanned aircraft and even rocket launches from the ground, without the need for liquid fuel.
Before LaserMotive can seek significant outside funding, however, it needs to prove its technology. For that, it's banking on the Games, which provides a unique opportunity to use high-powered lasers over FAA-approved long ranges. "Being able to demonstrate our system in a highly publicized context helps get us in front of large aerospace companies," says co-founder Tom Nugent.
Technology breakthroughs
Even before the Games, LaserMotive's work is already paying off for some team members. Carsten Erickson, CEO of Seattle-based supply-chain software maker Coolearth Software, invested in LaserMotive and joined the team in October 2006 after seeing a talk about the space elevator at a robotics conference. Since then, Erickson has worked evenings and weekends to develop a computer-based tracking system that can follow LaserMotive's robot as it climbs the cable and steer the system's laser to make sure the beam stays trained on the robot's solar panels.
Erickson had never worked with laser-tracking systems before, but he quickly saw how similar technology could be used to great effect at his own $2 million company. He used his LaserMotive prototype to design a computer-based quality inspection system that can identify and reject defective products on an assembly line -- a system he is already busy marketing to his clients.
"Working on LaserMotive has been inspirational," Erickson says.
Steve Burrows of Twintec, an Auburn, Wash., machine-parts manufacturer, built the mechanical components of LaserMotive's robotic vehicle. Working on the project inspired Burrows to develop a new product that his company now sells: a miniature version of the large 'T-slot' aluminum framing used to build everything from workbenches to assembly lines in factories. Burrows hopes that his new product, MicroRax, which he describes as a more robust version of an Erector Set, will appeal to scientists and tinkerers looking to build small structures. He expects MicroRax, which he sells in kits starting at $89, to more than double his company's $500,000 annual revenue within two years.
As for the space elevator itself, the folks at LaserMotive don't pretend to be true believers. They certainly don't expect to devote much time to the as-yet imaginary contraption beyond the Games.
"I don't see how you can make a profitable business related to the space elevator anytime in the next quarter century," says Nugent, who formerly worked at Laine's LiftPort.
Other Games participants agree. "The space elevator isn't feasible, but the Games are a good exercise for generating new materials," says David Lashmore, chief technology officer of Nanocomp Technologies of Concord, N.H. Lashmore's company used its carbon nanotube yarn in the tether strength contest in 2007 in partnership with MIT, and plans to do so again this year.
Even the Games' organizers think it's early days to be talking business.
"I can make the business case for carbon nanotubes and for power beaming. But until we get these pieces together, it's not quite the time to have a commercial space elevator company," says Ben Shelef, co-founder of the Spaceward Foundation.
Nonetheless, Laine just can't shake his entrepreneurial conviction about the space elevator. He spent last summer at an International Space University graduate program in Barcelona and is now researching the use of tethered high-altitude balloons for communications, observation and weather monitoring, which he says will contribute to the development of the space elevator. He's also hoping to create a venture capital firm that will fund the elevator's precursor technologies.
"The [value of the] intellectual property that will come of building this elevator is enormous," he says.
Most Space Elevator Games participants have set their sights closer to Earth. Says LaserMotive's Nugent: "We all agree that it's more important to get up the kilometer [of cable] than to worry about the future."

To write a note to the editor about this article,
click here
.