Oil surges to 10-month high
Prices settle at the highest level since Oct. 20, fueled by investor perception that a recovery in underway.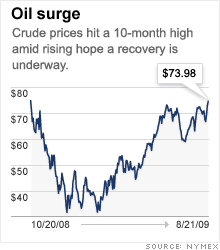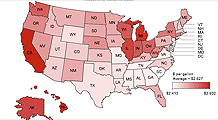 Prices at the pump can vary widely among states due to a number of factors.
More
NEW YORK (CNNMoney.com) -- Oil prices soared on Friday to their highest level since October as investors grow hopeful that a recovery of the world economy is in sight.
Light, sweet oil for October delivery rose 98 cents to settle at $73.98 a barrel -- its highest closing price since Oct. 20, 2008, when crude prices settled at $74.25 on Oct. 20, 2008.
All told, oil has surged by two-thirds this year after closing out 2008 at $44.60 per barrel.
Manouchehr Takin, petroleum analyst at the Center for Global Energy Studies in London, said the increases in oil prices don't make sense when you look at them purely at face value.
"On the fundamentals of supply and demand, one cannot explain why the price is high," said Takin. "All the [global] inventories are full. The outlook for the demand for oil in the coming weeks is really weak."
But investors who lack confidence in the volatile stock markets have shifted their money into commodities like oil, which is why prices have been escalating, said Takin.
"There is not much confidence in the stocks around the world," he said. "Obviously commodities is an alternative. They trade in oil, and therefore the paper value goes up."
At the same time, analysts say oil investments are being driven by the belief that the worldwide economic downturn has bottomed out and is due for a recovery -- a turn of events that would bolster demand in the near future.
"If things are getting better with the economy, then the demand will rise for commodities, and that's the expectation," said Joseph Stanislaw, independent senior advisor at Deloitte LLP.
In the United States, this perception is likely fueled by positive comments from Federal Reserve Chairman Ben Bernanke and improvements in the housing market.
But Stanislaw noted that it's too early to tell whether this perception of recovery will blossom into a reality.
"What usually happens in this type of economy is that the price rise happens before the demand rise," Stanislaw said. "People want to be there before it happens."
As oil prices rise, gas is sure to follow
Gas prices typically trail oil prices, meaning that motorists could soon be paying more to fill up their tanks.
The price of unleaded gasoline has already surged more than 60% since the beginning of the year, to the nationwide average of $2.625 on Friday, according to the motorist group AAA.
But this has not been a gradual increase. While gas prices rose steadily during the early months of the year, they have fluctuated throughout the summer, hitting their peak for the year - $2.693 per gallon of unleaded - on June 21.
"My guess is that we will see new highs for the year for gasoline soon," said Peter Beutel, an oil analyst with Cameron Hoover. "The bad news is we're very likely to see the highest prices for the year just as we come into Labor Day."
Beutel estimated that the price of gas will rise by 10 to 15 cents per gallon by Labor Day on Sept. 7, when millions of Americans take to the highways for vacation. But this would still be substantially lower than the year-ago average price of $3.665 per gallon.
The increases in gas prices have not kept motorists off the road. Traffic volume throughout America edged up 2% in June, according to the most recent available figures from the Federal Highway Administration.

Features

These Fortune 100 employers have at least 350 openings each. What are they looking for in a new hire? More

It would be the world's second-biggest economy. See how big companies' sales stack up against GDP over the past decade. More