A nano janitor for toxic waste
A small firm's breakthrough nanotech cleans up the world's most toxic messes.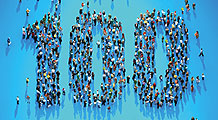 Amid the Great Recession, these companies are growing fast by offering services buyers can't go without -- like life-saving medical breakthroughs.
(Fortune Small Business) -- Forget Madison Avenue's claims about the cleaning power of household detergents. Steward Advanced Materials, a 30-employee company in Chattanooga, promises to mop up mercury, lead and even nuclear waste from soil and water.
Steward's SAMMS compound (an acronym for "self-assembled monolayers on mesoporous supports") consists of nanoscale pores that lab technicians can tweak to make them absorb and bind to any toxin. The result: a harmless cornstarch-like compound that can be disposed of in any landfill, according to the Environmental Protection Agency.
"When it comes to removing industrial toxins, we don't have great options," says EPA chemist Warren Layne. "But this stuff will do it."
SAMMS was invented in the early 1990s by Glen Fryxell and Shas Mattigod, researchers at a government lab in Richland, Wash. Problem was, they could produce it only in tiny batches.
Enter Steward, which visited the lab in 2005 for a presentation and left with exclusive manufacturing rights. As a demonstration, the company cleaned a 27-year-old 300-gallon tank of radioactive sludge at a government lab in Idaho.
The first SAMMS powder -- Thiol-SAMMS, available now -- tackles mercury, which is regulated by the EPA and 26 states. Steward also offers a number of customized solutions. One filters contaminated streams, while another is aimed at hospitals and dental offices. Industrial-scale versions are available for chemical plants, coal-fired power plants, mining operations and oil rigs. Compounds that remove arsenic, cadmium, copper, platinum and selenium are in the works; one version could someday remove gold and silver from ore.
Says Robert Jones, Steward's former vice president of product development: "There is an almost unlimited number of potential applications."

To write a note to the editor about this article,
click here
.