Clunkers: Good for Detroit, better for Japan
Under the Cash for Clunker rebate, foreign car sales beat domestic brands.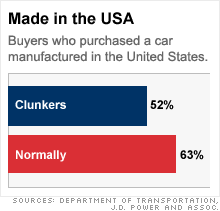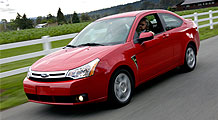 These are the most popular cars purchased under the Cash for Clunkers program.
Find your next Car

NEW YORK (CNNMoney.com) -- While Detroit has benefited from Cash for Clunkers, foreign automakers have gained even more.
Some critics of the program warned that because it let consumers buy domestic or foreign cars, Clunkers could end up spending more American tax dollars to help foreign companies than American ones.
And in fact, foreign automakers -- and foreign auto factories -- have gained somewhat more from the program than domestic automakers have.
The differences aren't enormous, but Cash for Clunker buyers have tended, more than auto buyers ordinarily do, to prefer foreign-made cars.
Domestic automakers usually account for about 47% of all cars and trucks sold in the U.S, according to data from J.D. Power and Assoc. But they sold just 38.5% of vehicles in the Clunkers program.
That's in part because companies like Toyota (TM), Honda (HMC) and Hyundai are still perceived as making cheaper, more fuel-efficient cars, experts said.
Factories, not just brands
Even taking into account the fact that some foreign brands are manufactured in the U.S. and vice versa, Cash for Clunker buyers were more likely to buy a car made in another country.
The DOT recently said that roughly 52% of cars being bought under the Clunker program were made in America. According to J.D. Power, about 63% of the cars usually sold in America are made here.
Not that the domestic automakers are complaining about any of this. Even if foreign automakers saw a somewhat bigger lift in sales, domestic automakers still got significant benefits from the program. Ford (F, Fortune 500) and General Motors have restarted factories to deal with the added demand and Chrysler says it's already making new cars and trucks as fast as it can.
The shift towards foreign cars also reflects changes that were already underway in the auto market, with or without Clunkers, said Jeff Schuster, an analyst with J.D. Power and Associates. Bankruptcies, bail-outs and factory shutdowns put U.S. automakers at even more of a disadvantage in 2009.
In the first half of 2009, domestic manufacturers sold only 45% of all vehicles. In the same period last year, the figure was 48%.
Product shift
For the most part buyers in the Clunker program were focused on maximizing fuel efficiency, said Tom Libby, president of the Society of Automotive Analysts. When the goal is gas mileage, consumers turn more often to import brands, since they're thought to make better small cars and foreign makers offer more options in that category.
"You look at the product portfolios and it explains it completely," he said.
But when it comes to trucks, domestic automakers generally sell more of them. And the Clunker fuel economy requirements for truck purchases were much less stringent than they were for cars.
That should have helped boost U.S. Clunker sales, but most buyers were still focused on making big fuel economy gains.
That's probably not because of their concern for the environment, said Libby. More likely, he said, it's because most car shoppers didn't bother to read the rules closely enough to understand they didn't have to buy small cars.
"The general impression is that the program is designed to sell more fuel-efficient vehicles," said Libby, "so the buyer who is the market for a larger vehicle is probably dismissing the program."
Compact cars come out ahead
John McDonald, a spokesman for GM, has a different explanation for all of this. He argues that Toyota outsold GM at least in part because GM dealers simply ran out of cars.
He points out that, until recently, GM's share of Clunker sales closely mirrored its share of the general auto market. It dropped off because GM, like other domestic automakers, was struggling with "historically low" inventory.
"It's probably the fact that the domestics [were] running out of cars on their lots," he said.
But McDonald does agree that lower price points on foreign cars also hurt domestic sales. Many Clunker buyers are only in the market because they smell a deal, he said, and Japanese and Korean automakers have more to offer the customer who just wants a dirt cheap set of wheels McDonald said. He cited one advertisement he'd seen offering a new small car for $5,500 after the Clunker rebate.
"That's motorcycle or snowmobile money," he said.
Jeff Schuster, an analyst with J.D. Power and Associates, agreed with that assessment. His statistics show a big spike in sales of so-called "compact basic" cars, a term that translates to "econo-boxes."
"Things do tend to skew toward the imports if you're looking at how low you can get the vehicles price down to," he said.

Features

These Fortune 100 employers have at least 350 openings each. What are they looking for in a new hire? More

It would be the world's second-biggest economy. See how big companies' sales stack up against GDP over the past decade. More