Clunkers rush lifts auto sales
Sales at Ford, Toyota and Honda are up from a year ago, while GM, Chrysler post gains from July. Will sales remain strong now that Cash for Clunkers is history?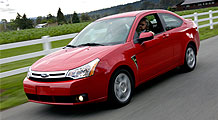 These are the most popular cars purchased under the Cash for Clunkers program.
NEW YORK (CNNMoney.com) -- The popular Cash for Clunkers program gave a strong boost to auto sales in August, resulting in the industry posting its best month this year by far. But sales dropped sharply in the last week of August -- after Cash for Clunkers ended.
A preliminary reading from sales tracker Autodata shows that industrywide sales rose 1% compared to a year ago, to 1.2 million vehicles. That's the first annual sales gain since October 2007, and sales were about 26% above July's levels.
Ford (F, Fortune 500) reported the best results among the nation's six largest automakers. Its sales rose 17% compared to August 2008, its biggest jump in sales in four years. Still, Ford sales' gain was short of the 22% increase forecast by sales tracker Edmunds.com. Ford shares were down more than 4% following the release of the report.
The situation wasn't as good at the other two major U.S.-based automakers. General Motors posted a 20% drop in sales from a year ago, while Chrysler Group reported a 15% decrease from last August. But the news was not all bad. The declines were not as large as the forecasts from Edmunds.com.
And both GM and Chrysler, which went through bankruptcy reorganizations earlier this summer, reported sales gains from July. GM's sales were up 30% from a month ago, while Chrysler's sales climbed 5%.
Looking at the Asian automakers, Toyota Motor (TM), which had more Clunker sales than any other automaker, reported a 6% rise in sales, its first year-over-year gain since April 2008, and its best gain in two years. Honda Motor (HMC) reported a 10% rise in sales, ending a 14-month string of declining U.S. sales.
Among the other Asian automakers, Korean automaker Hyundai, which is now the No. 7 automaker in terms of U.S. sales, posted a 47 spike in sales compared to a year ago. And Kia, the other major Korean automaker Kia posted a 60% jump in sales.
Nissan was the one Asian car company to not post a sales increase -- its sales fell 3%.
Better times ahead or just a Clunkers boost?
Ford director of sales analysis George Pipas said in a conference call Tuesday that industrywide sales probably increased by about 400,000 vehicles during the month from the program. Pipas added that a significant percentage of sales would have taken place even without the program.
Still, sharp declines in sales during the last week of August have raised doubts about the outlook for sales for the remainder of the year, said Edmunds.com senior analyst Jessica Caldwell.
Cash for Clunkers left dealers with limited inventory of new vehicles once the program ended and also with fewer buyers interested in buying cars now that they are no longer eligible for $4,500 in rebates.
Caldwell said that the pace of sales went from a seasonally-adjusted annual rate of 15 million vehicles while the program was in effect in August to only about 8 million currently.
"Cash for Clunkers sent the sales rate on a wild roller coaster ride," she said.
But auto executives said that they believe that signs of improvement in the economy should leave the industry in good shape going into this fall, a time when companies will start to roll out new models.
"The Cash for Clunkers program was certainly a success, but our momentum continues to build on the strength of our new cars and crossovers," said GM sales vice president Mark LaNeve in a statement.
Pipas pointed out that sales of smaller cars are now higher than they were when gas hit a record of more than $4 a gallon last year.
Ford said in its release that sales were also lifted by signs of recovery in the U.S. economy overall. Sales of trucks and vans, for example, rose 12%. In a statement, Ford vice president of U.S. sales Ken Czubay said the company was hopeful that "small business owners are seeing signs of recovery and gaining confidence in the outlook for stronger business conditions."
Chrysler said its sales were limited by low inventory of some of its vehicles. It said it essentially sold out of many models by the end of the month. Chrysler has joined Ford and General Motors in announcing additional production of vehicles this fall in order to replenish dealers' supplies.
GM said Tuesday it now plans to build 655,000 vehicles in the fourth quarter, up 20% from its third quarter production target. GM had previously announced it was adding 60,000 vehicles to its production plans during the rest of the year to restock depleted inventories.
Still, the low inventories mean that some GM dealerships that had originally been set to close in January will now be closing early rather than trying to restock, LaNeve said.
GM announced plans to cut about 1,100 dealerships as part of its bankruptcy reorganization, but many of those dealerships are due to stay in business for another 12 months.
Talkback: Do you think that auto sales will continue to improve or did Cash for Clunkers just provide a short-term boost? Share your comments below.

Features

These Fortune 100 employers have at least 350 openings each. What are they looking for in a new hire? More

It would be the world's second-biggest economy. See how big companies' sales stack up against GDP over the past decade. More