GM introduces money-back guarantee
Buyers will be allowed to return their car or truck within 60 days if they're not satisfied.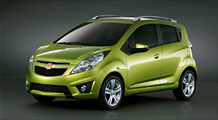 General Motors recently showed reporters and select members of the public what it plans to build over the next two years.
Find your next Car

NEW YORK (CNNMoney.com) -- Buy a new General Motors car. Don't like it? Return it and get your money back.
General Motors, in a bid to appeal to consumers upset about decades of poor quality and the carmaker's government bailout, is launching an unusual program: money-back guarantees.
Between Sept. 14 and Nov. 30, buyers will be able to return Buick, Cadillac, Chevrolet or GMC products within 60 days if they don't like them, the automaker announced Thursday.
Such programs are commonplace in other businesses, but not for cars.
For one thing, cars cost, on average, about $25,000 and they lose a lot of value as soon as they leave a dealer lot.
So a money back guarantee will mean thousands of dollars in losses for each returned car -- a risk against which GM has purchased insurance.
GM isn't too worried. Based on its experience with a similar program involving GM's British Vauxhall brand, GM expects few returns, marketing head Bob Lutz said in a conference call today.
The plan will capitalize on the improvements in GM's products over the last several years, Lutz said. The guarantee will be in place at least through the end of November.
"I think we can now say our current lineup can bear comparison with any other volume automakers' products anywhere in the world," Lutz said.
The new guarantee will be part of a major new marketing push by GM, he said. GM will spend many times what it has in the last few years to market its cars.
"Three years ago, four years ago, five years ago, this would have been a huge risk," Lutz said.
Over that time, GM's products have improved to the point that the company now feels it can safely make this offer. GM does have insurance against any potential losses it may take on the program but Lutz said he felt confident that few customers would return their cars.
"Consumers watching this ad campaign will be intrigued because of GM's bold statement of confidence in its vehicles," said Jeremy Anwyl, CEO of Edmunds.com in a statement. "The risk that GM has in buyers returning its vehicles will be very minimal."
Edmunds.com recently tested a Buick LaCrosse in a comparison test against a Lexus ES350, a pairing that will be featured in GM's ad campaign touting this program. Edmunds found the Buick to be superior to the Lexus.
To take advantage of the program, customers would have to be current on auto payments and the car will have to have been driven less than 4,000 miles. GM will refund the full purchase price of the car.
Buyers will be able to return their cars after 31 days, but not after more than 60 days of ownership.
Advertising push: As part of the plan, GM will release advertisements featuring comparisons between various GM products and Japanese or German competitors.
For instance, Lutz said, one ad will feature the 2010 Chevrolet Equinox compared to the Honda CR-V, pointing out the Equinox's better highway fuel economy and other features.
The ads will also feature GM's 5-year, 100,000 mile powertrain warranties.
GM's new chairman of the board and former AT&T CEO Ed Whitacre will star in a series of ads that will introduce the new program. Lutz called Whitacre, with his soft Texas drawl, white hair and slight limp, "right out of central casting" as someone who will earn America's trust.
In the ads, Whitacre will confess to having had doubts about GM when he was asked, by the government, to head the carmaker's new board of directors as it came out of bankruptcy. He will go on to say "I liked what I found, and I think you will, too."
Whitacre will then describe GM's new guarantee and invite car shoppers to "put us up against anyone."
The campaign will also feature some "viral" video advertisements, including one in which 77-year-old Lutz, in an on-line video, will challenge anyone to race him, driving a Cadillac CTS-V high-performance sedan, at the Laguna Seca Raceway. Challengers would be allowed to drive any unmodified production sedan in a bid to challenge GM's claim that the CTS-V is the fastest production sedan in the world.
During the conference call, a blogger from the Web-site Jalopnik.com accepted the challenge, offering to race Lutz in a high-performance Mercedes-Benz model.
"That's great,' said Lutz, "And if you beat me by a second on the lap time, we'll just advertise the price difference."

Features

These Fortune 100 employers have at least 350 openings each. What are they looking for in a new hire? More

It would be the world's second-biggest economy. See how big companies' sales stack up against GDP over the past decade. More