Lawmakers grill SEC on Madoff
Senate Banking Committee holds second hearing on the Security and Exchange Commission's failure to identify Bernard Madoff's $50 billion fraud.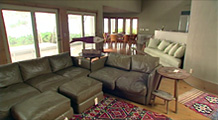 As the government prepares to put Bernie's Montauk home on the market, a U.S. Marshal gave the press a tour of the house. Here's what they saw.
NEW YORK (CNNMoney.com) -- Senate lawmakers took the Securities and Exchange Commission to task Thursday for failing to prevent Bernard Madoff from perpetrating one of the largest financial frauds in U.S. history.
"Bernard Madoff stole $50 billion," said Sen. Christopher Dodd, chairman of the Senate Banking Committee, in prepared remarks. "And the Securities and Exchange Commission didn't stop him."
"There can be no excuse for that colossal failure," he added.
Dodd's remarks came at the beginning of the Committee's second hearing to investigate the SEC's shortcomings in the Madoff case.
Madoff, 71, was convicted of operating a Ponzi scheme and defrauding thousands of investors. He pleaded guilty and was sentenced to 150 years in prison in June. Prosecutors have said it was the largest investor fraud ever committed by a single person.
An internal report from the SEC's inspector general released last week found that the nation's primary financial watchdog overlooked "more than ample" evidence, including six complaints, that red-flagged the massive fraud.
The hearing comes one day after officials in Massachusetts released transcripts of a phone conversation in which Madoff lectured colleagues on how to avoid being scrutinized by the SEC.
"You know, you don't have to be too brilliant with these guys," Madoff told them, according to the transcript.

Features

These Fortune 100 employers have at least 350 openings each. What are they looking for in a new hire? More

It would be the world's second-biggest economy. See how big companies' sales stack up against GDP over the past decade. More