Chrysler starts leasing again
With new financing partner, GMAC, Chrysler will begin offering leases again on 2010 models.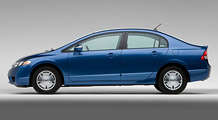 These five ultra-efficient vehicles have earned the Insurance Institute for Highway Safety's Top Safety Pick Award.
Find your next Car

NEW YORK (CNNMoney.com) -- Chrysler will begin leasing vehicles again after a hiatus of more than a year, the automaker announced Wednesday.
"We are pleased to re-enter the leasing market so we can offer customers the opportunity to lease vehicles at rates competitive with the marketplace," said Peter Fong, Chrysler's head of sales and chief executive of the automaker's Chrysler car brand. "Our ability to offer additional financing options will benefit consumers who have long been fans of leasing and appreciate the flexibility this financing option gives them."
Chrysler's finance arm, Chrysler Financial, stopped offering leases In August, 2008, a move spurred by tight credit markets and big losses on leased SUVs, caused by a steep decline in the value of those once-popular vehicles.
That hurt Chrysler sales by making it more difficult for Chrysler, Dodge and Jeep customers to lease cars. Leasing is popular with some customers because it provides them with lower monthly payments even though it makes it less cost effective to keep the vehicle long term. Under a lease, a customer essentially rents the vehicle for a period of years while paying only for the loss in the vehicle's value over that time, plus interest and fees.
Leasing was never a huge part of Chrysler's business, said Jesse Toprak, a sales analyst for the auto pricing Web site Truecar.com, but it generally made up 10% to 15% of the automaker's sales.
"We have seen some of those customers go to other manufacturers because of Chrysler not offering leasing," he said.
GMAC Financing Services, once the financing arm of General Motors, replaced Chrysler Financial as the automaker emerged from bankruptcy this summer and will now be handling lease deals for Chrysler.
Shortly after Chrysler's announcement last year, GM also announced that it was, for practical purposes, dropping out of leasing. GM, also working with GMAC as well as other financing companies, began offering leases again last month.
Leasing will be available on all 2010 model year Chrysler, Dodge and Jeep vehicles, the automaker said. In addition, special leasing rates will be available on the Chrysler Town & Country and Dodge Grand Caravan minivans, Dodge Ram pick-up, Dodge Journey crossover SUV and Jeep Wranker and Liberty SUVs.
Chrysler also announced new sales incentives including 0% financing or rebates up to $4,500 on 2009 model year cars and rebates of up to $3,000 on some 2010 model year vehicles.

Features

These Fortune 100 employers have at least 350 openings each. What are they looking for in a new hire? More

It would be the world's second-biggest economy. See how big companies' sales stack up against GDP over the past decade. More