The home of America's worst commute
This Pennsylvania town suffers the longest average commute in the U.S., at 40.6 minutes, says Census Bureau.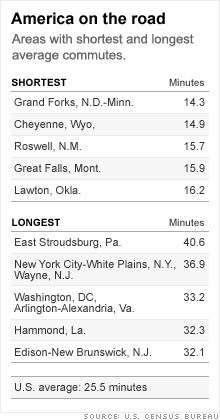 NEW YORK (CNNMoney.com) -- Of all the commuters in America, residents of a small town in eastern Pennsylvania spend the most time behind the wheel, according to the Census Bureau.
Commuters living in the area of East Stroudsburg, a town near the New Jersey border, averaged 40.6 minutes from home to work or vice versa, according to the 2008 Census report released Monday.
That's a lot longer than the nationwide average of 25.5 minutes.
Roger DeLarco, president of East Stroudsburg council, said that's because many of the locals travel to jobs in the New York City area, more than 60 miles east as the crow flies. He said that 10,000 people live in his town, but three times that number commute to New York from the greater area of East Stroudsburg.
"They do put a lot of miles on their cars," said Marc Bellissimo, owner and mechanic at J&M Service Center in East Stroudsburg, noting that some commuters rack up 50,000 miles a year. "It does take a toll on the car, as well as the people who have to commute."
Anne Wolfe, manager of Pocono Gas Station Inc. in East Stroudsburg, said that early-morning commuters make up the majority of her business. No matter how early she opens her doors, it doesn't seem to be early enough for some of the local residents in their pre-rush-hour race for the Lincoln Tunnel.
"The bulk of our business in the day is in the morning, from 4 until 9 or 10 [a.m..]" she said. "We start opening up at 4, and we have them coming in the door at a quarter of, when we still have the lights out."
The long commute works both ways. The Census Bureau said that residents of the general New York City area, ranging as far north as White Plains and as far west as Wayne, N.J., had the second-longest commute, averaging 36.9 minutes in 2008.
Other metropolitan areas also suffered long commutes, with an average of 33.2 minutes for the area encompassing Washington, D.C., and Arlington and Alexandria, Va. In the greater Chicago area, including the Illinois cities of Joliet and Naperville, the average commute was 31.9 minutes last year, according to the government.
Generally speaking, the best way to avoid long commutes is to live far away from major metropolitan areas, preferably somewhere out West or in the Midwest.
The nation's shortest commute is in the area of Grand Forks, N.D., averaging 14.3 minutes last year, according to the Census Bureau. This was followed by Cheyenne, Wyo., at 14.9 minutes, and Roswell, N.M., at 15.7 minutes.

Features

These Fortune 100 employers have at least 350 openings each. What are they looking for in a new hire? More

It would be the world's second-biggest economy. See how big companies' sales stack up against GDP over the past decade. More