Training staffers to become leaders
An urban retailer hires for the long haul.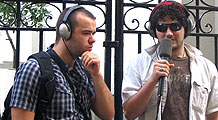 The government's Emerging 200 program aims to boost job growth by training inner-city entrepreneurs to expand their businesses. Here's how it's playing out in 5 cities.
(Fortune Small Business) -- When Jason Lutz graduated from college in 1995, he had big plans for Sneaker Villa, his parents' two-store sporting goods business in the suburbs of Reading, Pa. He persuaded them to open a third outpost, in Reading's gritty downtown, and stock it with hip-hop styles, not performance gear. In less than a year the downtown store had generated double the combined revenue of its sister stores.
It was the start of a massive makeover. Based in Philadelphia and rebranded Villa, the company today dominates the market for urban fashion in cities across Pennsylvania, New Jersey, Delaware and Ohio. Villa's 2008 sales neared $40 million, and its 25th store opened this year.
But Lutz, 35, now CEO, says the company offers more than clothing and footwear. It also strives to strengthen the inner-city neighborhoods where it does business -- beginning in the stores.
The company employs 107 full-time and 200 part-time workers, and its staffing policy is as simple as it is ambitious: Hire local kids who understand Villa customers because they are Villa customers, teach them life skills as well as retail skills, and show them a future.
Employees who have put in a year of good performance and community service are invited to attend Villa's 12-session management-training program, which covers everything from sales strategies to building connections in a low-income neighborhood.
It combines discussions with role-playing exercises that provide hands-on practice in navigating sticky situations. Trainees learn how to settle arguments among employees, soothe unhappy customers and prevent shoplifting. The final class addresses ways to build community partnerships. Fledgling manager Scott Levesque, 30, used that lesson to approach a Salvation Army community center in Philadelphia about teaching teens job-search skills. Levesque taught the class and urged his students to apply for jobs with Villa.
In the past four years, 70 employees have completed Villa's program. As a result, 85% of store managers, including 24-year-old Kareem Cathey, have been promoted from within. Cathey took a part-time job with Villa at age 16 and became a full-time employee after graduating from high school. Now he manages a store in Philadelphia's Allegheny neighborhood. Inspired by his training, he plans to return to school to study business management and entrepreneurship.
This year Cathey joined about 40 other store managers at Villa's first financial fitness workshop. He says that although he already knew much of the subject matter -- budgeting, balancing a checkbook, setting financial goals - the class taught him how to discuss money matters with his employees.
"I can give them an advance on their paycheck when they have financial problems, but I'd rather tell them how to keep it from happening again," he explains.
That's exactly what Lutz hoped would happen.
"We can only reach so many people directly, so we try to build strong leaders at the stores who can pass their knowledge on," he says. "Our goal is to leverage the brand to create local jobs, keep local dollars close to home and help people connect with positive community resources. The shoes and clothes just provide a cool entry point."

To write a note to the editor about this article,
click here
.