AONE IPO charges car battery market
Shares jump in debut of A123, one of America's few electric car battery makers - trading as AONE on the Nasdaq.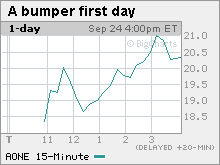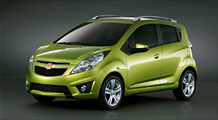 General Motors recently showed reporters and select members of the public what it plans to build over the next two years.
NEW YORK (CNNMoney.com) -- Shares of A123 Systems, one of just a handful of U.S.-based makers of batteries for electric cars, debuted sharply higher from their offering price Thursday as investors cheered the closely watched firm.
A123's stock, which now trades on the Nasdaq under the ticker symbol AONE (AONE), surged over 50% Thursday to close at $20.10 a share, a day after the company raised $380 million through an initial public offering.
The offering was priced late Wednesday at $13.50 a share, well above the originally proposed range, according to a Securities and Exchange Commission filing. It began trading Thursday at $17 a share.
Buzz around the company is running high. "I heard it was standing room only at many of the presentations," that the company made for money managers, said one person familiar with the firm.
The company is closely watched for several reasons.
First, its origins and backers give it some credibility in the high tech world.
The company, an outgrowth of the research labs at the Massachusetts Institute of Technology, is based in Watertown, Mass. along the Route 128 technology corridor. It was founded in 2001 with a $100,000 grant from the Department of Energy, and now has facilities in 10 countries. The firm has around 1,700 employees, mostly located abroad.
Analysts give the company credit for developing a very competitive technology that relied on the nanotechnology research from MIT.
Since then then it has raised money from venture capital funds and a few high profile companies, including General Electric (GE, Fortune 500) and Motorola (MOT, Fortune 500).
The firm recently won a $250 million grant from the federal government to build a production facility outside Detroit - the second largest grant awarded in a recent $2.4 billion round of stimulus-related funding. The factory will complement production facilities the company already has in Asia.
And Asia is probably the biggest reason A123 is so closely watched. The firm is one of just a few American companies that are competing with much larger Asian rivals for the potentially lucrative market for hybrid and plug-in electric car batteries.
Many analysts believe electric cars will begin replacing internal combustion engines, refueling with nuclear or renewable-generated electricity as the world becomes more concerned with global warming.
Since the battery is the most expensive component in an electric car, the conventional wisdom has it that whoever controls the battery market may ultimately control the auto industry.
The public offering, planned over a year ago but delayed after the market meltdown, comes as the stock market rebound continues and public offerings are again in fashion. This week there are eight companies slated to go public, in the busiest week since 2007.
The firms' underwriters, Morgan Stanley and Goldman Sachs, took notice in all the buzz surrounding the company. They raised the offering price at least twice during the last few days, from $8-$9.50 a share to the eventual $13.50.
But just because A123 is a hot topic doesn't necessarily mean it's a good investment.
Namely, it has yet to turn a profit, although that's not uncommon for tech startups. The firm lost over $40 million in the first half of 2009 on sales of just under $43 million, according to documents filed with the Securities and Exchange Commission. In 2008, the company lost over $80 million on sales of $68.5 million.
While many analysts see electric cars as the next dominant transportation technology, that future is by no means guaranteed. Natural gas, advanced biofuels, hydrogen, super-efficient gasoline engines or even a mix of technologies could ultimately prevail.
While A123 has working relationships with many firms -- including Chrysler, Daimler, BMW and General Motors -- it's not a major supplier to any of them as of yet.
The company's biggest projects currently include a deal with BAE Systems for bus batteries, a project with Black and Decker for power tool batteries, and a deal with Mercedes-Benz's HighPerformanceEngines.
Plus, A123 is a small player competing against large, mostly Asian firms with decades of experience in the battery business thanks to their proficiency in making things like cell phones and laptops.
Panasonic (PC) is in a joint venture with Toyota (TM), Sanyo supplies Volkswagen and Honda (HMC), and NEC is working with Nissan, according to research firm ThinkEquity.
The American firm Johnson Controls (JCI, Fortune 500) has partnered with French-based Saft to supply Ford (F, Fortune 500), Mercedes and BMW.
General Motors recently chose a subsidiary of Korean firm LG as its partner on the much hyped plug-in Chevy Volt, although GM is thought to be still working with A123 in some capacity and left the door open for a possible deal with A123 in the future.

Features

These Fortune 100 employers have at least 350 openings each. What are they looking for in a new hire? More

It would be the world's second-biggest economy. See how big companies' sales stack up against GDP over the past decade. More