Hudson River miracle pilot will fly again
US Airways' Chesley "Sully" Sullenberger is going back to work as a management pilot.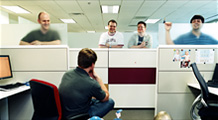 Free beer, generous vacation leave, and a say in company decisions - see how 7 innovative companies are inspiring workers and boosting the bottom line.
NEW YORK (CNNMoney) -- Capt. Chesley "Sully" Sullenberger will fly again. The US Airways pilot who safely landed flight 1549 on the Hudson River in January will return to work as a management pilot, the airline announced Monday.
In addition to flying for the airline, Sullenberger will also be part of US Airways' (LCC, Fortune 500) operations safety management team.
"US Airways is an industry leader when it comes to safety and Sully is an excellent addition to the team," said Chairman and CEO Doug Parker in a statement.
When flight 1549's engines shut down after colliding with a flock of birds, Sullenberger took over the controls from First Officer Jeffery Sikes and guided the plane to an emergency water landing. All 155 passengers aboard the flight survived.
"The months since January 15 have been very full, and my family and I have had some unforgettable experiences," Sullenberger said in a prepared statement. "However, I have missed working with my colleagues at US Airways and I am eager to get back in the cockpit with my fellow pilots in the months ahead. In my new role, I will continue to be the same kind of advocate for aviation safety that I have been for several decades."
In February, Sullenberger and his crew members, except Doreen Welsh, a 38-year veteran flight attendant, told CNN's Larry King that they would return to work at some point.

Features

These Fortune 100 employers have at least 350 openings each. What are they looking for in a new hire? More

It would be the world's second-biggest economy. See how big companies' sales stack up against GDP over the past decade. More