Bad news: Jobs market getting worse
More jobs were lost in September than expected and unemployment rate hits 26-year high of 9.8%.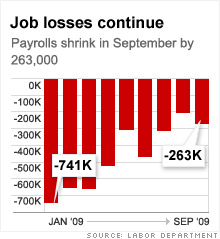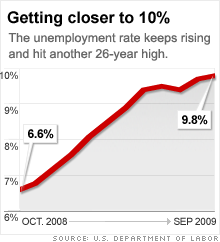 NEW YORK (CNNMoney.com) -- Employers cut more jobs from their payrolls in September and the unemployment rate hit another 26-year high, as the long-battered U.S. labor market took an unexpected turn for the worse, according to a government report Friday.
The Labor Department said there was a net loss of 263,000 jobs in the month, up from a revised loss of 201,000 jobs in August. Economists surveyed by Briefing.com had forecast losses would fall to 175,000 jobs.
This is only the second time this year that job losses rose from the previous month, as the labor market had shown slow but relatively steady improvement since a loss of 741,000 jobs in January.
September marked the 21st consecutive month that the number of workers on payrolls has shrunk, a period during which 7.2 million jobs have been lost.
Even though many economists, including those at the Federal Reserve, have said there are signs that the economy is growing once again, Friday's jobs report shows that job losses could continue well into the recovery, limiting the strength of any economic turnaround.
"This report is dismal and disappointing," said Sung Won Sohn, economics professor at Cal State University Channel Islands. "The 'green shoots' in the economy are withering. Technically, the economy may have bottomed, but the job market is lagging behind and struggling."
U.S. stocks fell in early trading following the report and closed the day slightly lower.
The unemployment rate rose to 9.8% in September from 9.7% in August. That was in line with economists' forecasts, but the unemployment rate is now the highest since June 1983.
Speaking to reporters, President Obama called the report a "sobering reminder that progress comes in fits and starts.
"I've made the point that employment is often the last thing to come back after a recession, and that's what history shows us," Obama said. "But our task is to do everything we can possibly do to accelerate that process."
The average work week also fell to a record low of 33 hours, down from 33.1 hours in August. In addition, the number of workers who want full-time jobs who are only able to find part-time work rose to a record 9.2 million.
Counting these involuntary part-time workers and those without work who have stopped looking for jobs and are not counted in the unemployment rate, the so-called underemployment rate rose to 17%, the highest reading in the 16 years it's been calculated.
Dent to recovery hopes?
With the average hourly wage up only a penny, the reduced hours resulted in a $1.54 drop in the average weekly paycheck. John Silvia, chief economist with Wells Fargo Securities, said the shorter hours and the downward pressure on wages are a major concern.
"It's a huge challenge to consumer spending," he said. "It's going to be a tough Christmas for a lot of families, a lot of retailers and any businesses that depends on the consumer."
Silvia said his firm wasn't forecasting any job gains until next spring, but even that turnaround may get pushed back if wages and hours remain under such pressure.
Silvia is also concerned about the continued growth in long-term unemployment, which he said will make it difficult for people to start spending again, even if they get a job.
A record 5.4 million people have now been out of work for six months or more, up 350,000 from the previous record high reading in August. The average time a jobless person has been out of work crossed the six-month mark for the first time on records that go back 61 years.
"The longer people are without a job, the more difficult it is to pay their bills, their credit cards, their mortgages and home equity loans," he said. "That hole keeps getting deeper and broader too, affecting more households. This isn't just a blue collar recession."
Other experts said there were some glimmers of hope in the report, however. Tig Gilliam, CEO of Adecco Group North America, a unit of the world's largest employment staffing firm, said much of the unexpected rise in job losses was due to a decline of 53,000 government jobs.
"State and local governments are stretched," he said. "No one was expecting them to be an engine for job growth. But what we need to focus on is the private sector."
He was also encouraged by the fact that there was a net loss of only 1,700 jobs among temporary employees. He pointed out that once there is a gain in temporary workers, that is typically an early sign that employers are getting ready to add jobs again.
"Let's not panic about this report. It's really not getting worse in most respects," he said. "We should see an end to job losses by the end of the year. I expect in three to four months, we'll be talking about jobs being added. I hope."

Features

These Fortune 100 employers have at least 350 openings each. What are they looking for in a new hire? More

It would be the world's second-biggest economy. See how big companies' sales stack up against GDP over the past decade. More