The nightmare employee
He seemed like the perfect hire ... at first.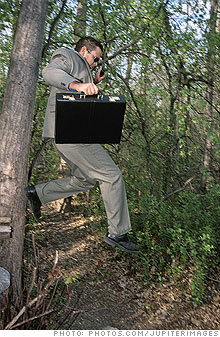 (Fortune Small Business) -- A while ago I needed to hire an accounts payable person for my picture-framing business. We put an ad in the paper and received a good number of applications. One candidate jumped out from the pile: He had exactly the right background, and it didn't hurt that he asked for a slightly lower salary than we were planning on paying.
After a successful interview we moved to the reference check. We called his previous employer, who was now retired, and left a message on his answering machine. He returned the call promptly and said all the right words: on time, conscientious, honest, reliable, easy to work with.
So far, so good! Unfortunately, there were no other references because our candidate had worked for this guy for years and his only employer before then was out of business. But his background check and drug test came back clear, so we offered him the job. He readily accepted. He even asked if he could familiarize himself with our financial-software manual in advance so he could hit the ground running.
Within a week it was clear that we had hired the perfect employee. He came in early every day, needed very little training and always went out of his way to do something extra. He even offered to drop the mail at the post office on the way home.
Two weeks later my luck ran out. Mr. Perfect told me his mother-in-law had died and left him and his wife a lot of money. He explained that he was quitting because he no longer needed to work and had to tie up the loose ends of his mother-in-law's estate. It was disappointing, but we understood that unexpected things happen sometimes.
The next day I received a phone call from an FBI agent. She explained that she had driven by my business yesterday and had recognized my new hire walking in the front door. He was an old acquaintance of sorts: She had helped put him in jail for fraud a few years earlier. She gave me his name, but it was unfamiliar. I quickly realized that my perfect employee was a perfect embezzler, operating under a false name.
We had not received a bank statement since he started. (This was several years ago, and we weren't yet banking online.) So I called the bank to see if anything was wrong.
There was. About $75,000 worth of checks had been drawn on the account, payable to fictitious company names that matched the dollar amounts of real checks that the embezzler had thrown out. He had deposited the fake checks in a separate bank account that he controlled.
Mr. Perfect had done a lousy job forging the checks, but they cleared anyway. Here's the bigger surprise: Bank officials admitted that they didn't check signatures! So I had no responsibility for the loss, and they replaced the money. Our problems weren't over, though. There was a huge mess with the state of Illinois involving unpaid sales tax, and it took a while to mend fences with our real creditors.
Here are some warning signs that I missed at the time. During the job application process we asked Mr. Perfect to show his driver's license. He could produce only a state ID. He had just one reference, who, it turned out, was his accomplice. In retrospect it was also suspicious that he had offered to drop our mail at the post office. Finally, we should have exercised much tighter control over blank checks, particularly with a new hire.
By the way, the FBI arrested Mr. Perfect a week later. I imagine he's out of jail by now -- and looking for a job.
Jay Goltz employs 104 people at Artists Frame Service, Chicago Art Source and Jayson Home & Garden, all based in Chicago. He is the author of The Street-Smart Entrepreneur (Addicus Books).

To write a note to the editor about this article,
click here
.