Google: Worst is behind us
Online search giant reports revenue and earnings that trump Wall Street's estimates, saying the worst of the recession is over.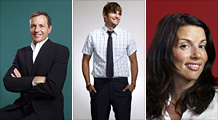 These tech-world luminaries - photographed during our recent Brainstorm Tech conference - aren't just changing the game; they've defined it. Photographs by Robyn Twomey.
NEW YORK (CNNMoney.com) -- Google said Thursday the worst of the recession has passed, as it reported quarterly profit and sales that rose from year-earlier results and easily trounced Wall Street's forecasts.
"Google had a strong quarter -- we saw 7% year-over-year revenue growth despite the tough economic conditions," said Eric Schmidt, Google's chief executive, on a conference call with investors. "While there is a lot of uncertainty about the pace of economic recovery, we believe the worst of the recession is behind us and now feel confident about investing heavily in our future."
Google's strong third quarter could be a good sign for the economy, as the company's ad clicks serve as a kind of barometer of consumers' willingness to spend. The more people click on ads, the more willing they are to buy things.
"It's all good news from our perspective," said Schmidt. "I'm very proud of our management team in what could have been a very significant downturn for Google."
By the numbers: The Mountain View, Calif.-based search giant's net income was $1.64 billion, or $5.13 per share, in the third quarter, up 27% from the same period last year.
Excluding one-time charges, including $95 million from a Google Books settlement with the Authors Guild, Google reported earnings of $1.88 billion, or $5.89 per share. Analysts polled by Thomson Reuters, who typically exclude one-time charges from their forecasts, expected earnings of $5.42 per share.
Sales rose 7% to $5.94 billion. Excluding advertising sales that Google shares with partners, a figure also known as traffic acquisition costs, the company reported revenue of $4.38 billion, which beat analysts' forecast of $4.24 billion.
Google makes the vast majority of its sales from online advertising, a market that has struggled over the past year. But two important indicators of advertising market health improved: The number of paid clicks, which include clicks on ads served on Google sites and its partners, rose 4% from the previous quarter and 14% from the same period last year.
The average amount paid to Google per click also increased about 5% from last quarter. That figure was down about 6% from the same period a year ago, but the company said that much of that discrepancy had to do with currency fluctuations.
Both measures improved from the second quarter, when paid clicks were down sequentially and cost-per-click was down by a double-digit percentage from a year earlier.
Shares of Google (GOOG, Fortune 500) rose more than 2% in after-hours trading.
Looking ahead: Schmidt said the companies new investment would come in the form of "people and innovation." He reiterated a statement that he made last week, saying that the advertising recession had ended, and the company has ramped up its hiring as a result. Last quarter, the company shed 121 employees.
The company hasn't quite returned to its typical purchase rate of about one company a month. But Schmidt said Google has many small, innovative companies in its sights, and the company plans on increasing the number of acquisitions it makes in the coming months.
The company also said another encouraging sign is that advertisers have expressed a desire to spend more money with Google. As a result, Google is continuing to develop new products to assist with that interest.
For instance, the company said its new DoubleClick Ad Exchange will improve advertisers' ability to put display ads onto Web sites. Google also said it is making improvements to Google Maps, making it easier for companies to connect with customers online on a local level.

Features

These Fortune 100 employers have at least 350 openings each. What are they looking for in a new hire? More

It would be the world's second-biggest economy. See how big companies' sales stack up against GDP over the past decade. More