On stimulus jobs reporting, a big 'Oops'
Error in Recovery Act accounting raises doubts about government's ability to precisely track the flow of funds and jobs.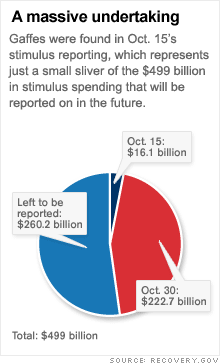 NEW YORK (CNNMoney.com) -- Gaffes in federal reports this week about stimulus have called into question the government's ability to accurately track how many jobs are being created by the massive $787 billion Recovery Act.
The data in Thursday's reports were filled with mistakes, including an error that made it look like a French vaccine maker received the largest stimulus contract, $1.4 billion, when in fact it has gotten an award one-100th the size.
Government research organization OMB Watch said its assessment of the reports revealed many inconsistencies in the job data.
"The data is rife with mistakes," said Craig Jennings, senior federal fiscal policy analyst at OMB Watch. "When you put out data that hasn't yet been checked, it undermines transparency, because you are putting out wrong information."
According to the Recovery Board, a non-profit, government-funded organization that operates stimulus data tracker recovery.gov, the government expected mistakes and is reviewing reports of them.
Uncovering how many jobs stimulus created is critical to the debate about the Recovery Act's value. Critics argue that the mammoth funding simply represents more government spending and is not effectively being used to create jobs. But proponents say stimulus is a crucial shot in the arm for the economy, and that the labor market would have fallen further without it.
"Understanding how many jobs are created will answer the very fair and important question, 'What return on our investment are we getting?' " said Christopher Mihm, the Government Accountability Office's managing director of strategic issues.
But the enormity of the stimulus bill leaves some experts saying it will be impossible to accurately portray the data. The sheer size of the reporting is dumbfounding: Tens of thousands of recipients will file reports after receiving stimulus funds from one of 28 government umbrella agencies, or from one of countless agencies from the 50 states.
Making it even more difficult to discover the true jobs number is a decision to put the responsibility of correcting mistakes on the stimulus recipients' shoulders. For transparency's sake, government agencies can point out errors but are powerless to change them. All of the data are under government review, and a report on the errors the agencies find will be available at the end of the month.
"It's important that those errors get caught before they get published, and right now they're still under review," said Jennings. "It's possible that some will be caught by the review, but it will take an incredible amount of man power just to sift through the data."
Recipients of stimulus funds were required to report how many jobs they saved or created and how much money they have received from government agencies by Oct. 10. The first sliver of that information was posted on recovery.gov on Thursday, with much more data to come on Oct. 30.
The contract awards posted Thursday represented less than 7% of the total stimulus funds doled out so far. By far the largest part of stimulus is in grants to states, which account for 83% of stimulus funding. Federal agencies and recipients are spending nearly three weeks reviewing these state reports to improve their accuracy before publishing them.
Loans to recipients make up the other 10%. Both grants and loans will be posted on recovery.gov at the end of the month.
There were 5,232 federal contracts reported Thursday, but 41,944 grants and loans will be reported on Oct. 30. Gov. Arnold Schwarzenegger of California recently said that his state alone submitted 5,747 reports from agencies and others who received funds from the state.
Mistake-prone reporting
A mistake in the very first contract listed on the site prompted doubts about the reliability of the reports.
Recovery.gov erroneously reported Thursday that French vaccine maker Sanofi Pasteur had received $1.4 billion in stimulus funds from the Department of Health and Human Services. The company topped the site's list titled "Largest federal contracts in U.S."
When CNNMoney.com first asked about the contract on Thursday, a spokeswoman from Sanofi Pasteur suspected the $1.4 billion figure was a mistake. HHS spokeswoman Vicki Rivas-Vazquez said the number on recovery.gov was erroneous and the actual amount was $10.4 million.
Sanofi Pasteur said Friday that $10.4 million is the correct figure.
"We anticipated errors in the reporting and so informed many reporters beforehand," said Edward Pound, spokesman for the Recovery Board. "This is the first time this kind of reporting is being done. These reports are being reviewed by federal agencies and recipients to catch any errors or problems."
The Recovery Board has the tall task of compiling all of the data, and is spending $18 million revamping its Web site to manage all of the information.
OMB Watch said its review yielded "really weird job numbers," including many discrepancies within the reports themselves. For instance, Jennings said OMB Watch found that many companies said in a narrative portion of their reports that it was able to retain several employees because of stimulus funds, but the "jobs created" column read "zero."
The Recovery Board aggregates its jobs data from the "jobs created" column to display the total number of jobs saved or created. Jennings speculated that recipients might have been confused about the scope of the term "created."
"I would not stake any sort of claims on those job numbers," said Jennings. "We don't know what's going on there."
Even the job figures that are input correctly do not always reflect the true number of positions created by stimulus funds.
For instance, UT-Battelle received a $338.7 million contract, listed as the fourth largest on the recovery.gov site. So far, the company, which manages Oak Ridge National Laboratory in Tennessee for the Department of Energy, has spent $13 million and created 41 jobs, mostly related to the oversight of subcontractors.
But the funding is actually creating many more jobs, said Thom Mason, UT-Battelle's CEO. Among the firm's first stimulus projects is the building of a chemistry and new materials research lab, which will employ 150 construction workers. None of these positions will appear on UT-Battelle's reports to the federal government.
"It's important that everyone reports on a consistent basis," said Mason, who expects to hire up to 4,000 subcontractors with stimulus funds. "The difficulty is that it gives you a number that's not really a realistic reflection of how many jobs are created."
--CNNMoney.com senior writer Tami Luhby contributed to this report.

Features

These Fortune 100 employers have at least 350 openings each. What are they looking for in a new hire? More

It would be the world's second-biggest economy. See how big companies' sales stack up against GDP over the past decade. More