Overdraft fees: Senate gets tough
Senate leaders release their first take at curbing overdraft fees, which banks charge when consumers overdraw accounts.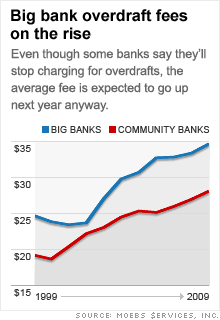 301 Moved Permanently
---
nginx
When will you be debt free?
Enter credit card information
CC name
Balance
($)
Rate
(%)
Minimum
payment($)
2
3
Choose a plan
Minimum payments only
Fixed payments
$ monthly
Debt-free deadline
I want to pay off my credit cards in:
years and months
WASHINGTON (CNNMoney.com) -- Senate leaders on Monday unveiled their proposal to tackle overdraft fees, the penalties banks charge customers who spend more than they have in their accounts.
Echoing legislation offered in the House by Rep. Carolyn Maloney, D-N.Y., the Senate bill would require banks to ask customers before enrolling them in overdraft programs. In addition, like the House bill, it would limit the number of overdraft fees charged in a year.
Currently more than 75% of banks automatically sign customers up for overdraft programs, according to a study by the Federal Deposit Insurance Corp.
"At a time when many can afford it least, American consumers are being hit with hundreds of dollars in penalties for overdrawing on their account by just a few dollars," said Sen. Chris Dodd, D-Conn., chairman of the Banking Committee. "Banks should not be trying to bolster their profits at the expense of their customers."
But the Senate's bill goes further than the House bill in several areas.
The Senate would give banking regulators new powers to set overdraft fees in a way that is "reasonable and proportional."
It would also prohibits banks from charging fees for insufficient funds on overdrawn ATM and debit card transactions.
The Senate bill also requires banks to disclose to consumers details about how an overdraft charge was incurred and what can be done to fix an account balance on the same day the overdraft fee is charged.
None of those provisions are contained in the House bill.
The Senate bill goes easier on the banks than the House bill in two ways.
First, the Senate bill says banks can charge one customer no more than six overdraft fees a year. The House would cap such fees at three times a year.
Second is the question of whether banks should tell customers when an account is on the verge of being overdrawn, so they can decide whether a purchase is worth an overdraft fee. The House bill would mandate such notification; the Senate bill merely says the issue should be studied.
Banks playing defense
The Senate legislation on overdraft fees is the latest congressional effort in a populist wave against banks. It follows a crackdown on credit card fees and a proposal to create a new consumer protection regulator for financial products like mortgages and credit cards.
The Federal Reserve is also working on new rules that could be ready by year's end that aim to protect consumers against some overdraft protection practices.
Sen. Charles Schumer, D-N.Y., a co-sponsor of the proposed overdraft fee legislation, sent a letter to the Fed last week, saying he was "concerned that your final rules will not do enough to protect consumers."
The Fed is considering allowing banks to continue automatically enrolling consumers but requiring them to give consumers the option of leaving such overdraft protection programs. Schumer wants the Fed to prevent banks from enrolling customers unless they "opt-in."
Some banks have already started to eliminate fees on customers who dip below their balance by a mere $5 or $10. Others plan to cap the number of overdrafts that can be racked up in a day -- Bank of America (BAC, Fortune 500), for example, is lowering its limit on maximum overdrafts charged daily to four from 10.
JPMorgan Chase (JPM, Fortune 500) will start processing and clearing expenses in the order the purchases were made, chronologically, instead of biggest to smallest, which can deplete bank balance sheets faster and lead to more fees.
Consumer advocates say the push in Washington to tackle overdraft fees prompted banks into making changes.
For their part, banks say they're just responding to customer demands and market forces. Other banks that recently announced changes include: BB&T (BBT, Fortune 500), City National (CYN), Fifth-Third Bancorp (FITB, Fortune 500), PNC (PNC, Fortune 500), Regions Financial (RF, Fortune 500), Toronto-Dominion (TD), U.S. Bancorp (USB, Fortune 500) and Wells Fargo (WFC, Fortune 500).
Scott Talbott, chief lobbyist for the Financial Services Roundtable, said the Senate and House proposals together represent a "huge government intervention into the markets."
"They're largely redundant, because the industry has already made numerous changes to overdraft fees in response to customers concerns," Talbott said.

Features

These Fortune 100 employers have at least 350 openings each. What are they looking for in a new hire? More

It would be the world's second-biggest economy. See how big companies' sales stack up against GDP over the past decade. More