Apple shares soar on earnings report
Mac and iPhone sales soar, sending quarterly profit up 47%. Stock hits record high in after-hours trading.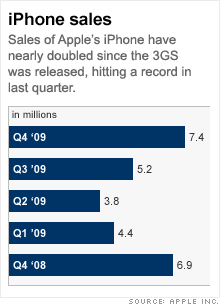 NEW YORK (CNNMoney.com) -- Apple Inc. said Monday that record sales of Macintosh computers and iPhones lifted its quarterly profit and revenue, which trounced Wall Street's forecasts.
Shares of Apple (AAPL, Fortune 500) rose 7% after hours, at one point hitting an all-time trading high of $204. The previous high in regular trading was $202, set nearly two years ago.
Mac sales soared 17% from a year ago to 3.1 million units, a quarterly record.
"We're thrilled with these record results, particularly given the economic environment around us," said Peter Oppenheimer, Apple's chief financial officer, on a conference call with analysts. "Mac is showing fast momentum, growing faster than the rest of the market in the past two quarters."
The company said its successful June launch of its new Mac operating system, Snow Leopard, helped push Mac sales over the 3 million mark. Stronger than expected back-to-school sales also boosted the numbers.
Despite a recession and an average selling price of just over $1,200, Apple grew its PC market share to a 15-year high last quarter according to recent reports from industry watchers.
Macintosh computers made up 8.8% of PC shipments last quarter, according to Gartner, while a separate report from IDC tallied up 9.4%. Both figures represent the highest market share the company has enjoyed since 1994.
IPhone sales climbed 7% to a record 7.4 million in Apple's fiscal fourth quarter. That rate could increase as Apple introduces the iPhone to China later this month.
IPhones make up 22% of the U.S. smartphone market, according to the latest data from IDC, second to Research In Motion's (RIMM) BlackBerry, which has 51%.
"We are thrilled to have sold more Macs and iPhones than in any previous quarter," Steve Jobs, Apple's chief executive, said in a statement. "We've got a very strong lineup for the holiday season and some really great new products in the pipeline for 2010."
IPod sales slumped 8% to 10.2 million for the quarter, despite slashed prices in September.
Record profit: The Cupertino, Calif.-based company said its fiscal fourth-quarter net income rose 47% to a record $1.7 billion, or $1.82 per share from a year earlier. Analysts polled by Thomson Reuters were looking for $1.42 per share.
Sales rose 25% to $9.9 billion, topping expectations of $9.2 billion.
A recent change in generally accepted accounting principles allows the company to declare revenue from iPhone sales as it comes in, rather than spread out over the two-year span of customers' contracts. Apple has not yet changed its accounting practices, but if it had, the company said it would have earned $12.3 billion.
For the current quarter, Apple said it expects revenue in the range of $11.3 billion to $11.6 billion, with earnings per share coming in between $1.70 and $1.78. The revenue outlook fell in line with analysts' consensus expectation of $11.4 billion, while Apple's earnings guidance fell short of Wall Street's forecast of $1.91 per share.
Despite some price-cutting, Apple said its gross margin rose to 36.3% in its fourth quarter, up from 34.7% last year.
But the company expects the margin to fall to 34% this quarter, due to price cuts and a higher cost of installing memory in its products.
"Apple brought down pricing modestly around its Snow Leopard launch, but pricing from the competition has come down as well," said Vijay Rakesh, an analyst at ThinkEquity. "Overall, Apple performed very well. Good customer demand in the back-to-school sales was a big plus."

Features

These Fortune 100 employers have at least 350 openings each. What are they looking for in a new hire? More

It would be the world's second-biggest economy. See how big companies' sales stack up against GDP over the past decade. More