Wells Fargo reports record profits
West Coast banking giant rakes in $3.2 billion in the latest quarter, nearly double what it made just a year ago.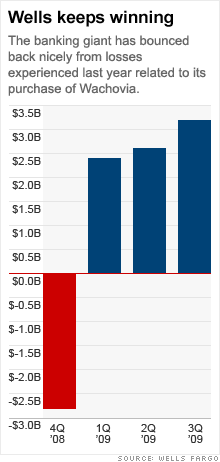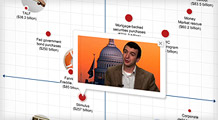 The collapse of Lehman led to a deeper recession and a litany of government programs to try to end the pain. We rate just how bold and effective the plans have been so far.
NEW YORK (CNNMoney.com) -- Wells Fargo reported record profits of $3.2 billion, the company said Wednesday, nearly doubling the amount of money it made just a year ago.
Despite facing an ongoing recession and rising loan losses, the San Francisco-based bank said its third-quarter results were lifted by strong performances in its mortgage lending business and other divisions.
"Third quarter results again illustrated the company's ability to profitably grow, even through the downward cycle despite elevated credit losses," said Howard Atkins, Wells Fargo's chief financial officer in a statement.
Even after taking into account preferred dividends paid to the government for injecting $25 billion into the company last fall, the bank's results were its best on record, easily shattering Wall Street estimates.
On a per share basis, the company said it earned 56 cents. Analysts had been expecting a profit of just 37 cents a share, according to Thomson Reuters.
A year ago, the company reported profits of $1.6 billion, or 49 cents a share.
One key benefit for Wells in the latest quarter was its decision to reduce the amount of money set aside for future loan losses. During the July-September period, the company added just $1 billion to its reserves, a much smaller amount than many of its peers.
Driving that decision were indications that loan losses might soon reach their peak. The company said Wednesday it expected consumer-related loan losses to peak during the first half of next year, while commercial real estate loan losses would crest during the second half of 2010.
Still, some analysts worried that the bank was hardly keeping up with the pace at which loans were deteriorating. During the quarter, the number of loans in which Wells was not collecting interest or principal payments climbed 28% to $23.5 billion from the previous quarter.
"For two consecutive quarters, they have been using their reserves they put up at the end of last year as a kind of ATM to report earnings," said Thomas Mitchell, an analyst who covers the company for Miller Tabak.
Those concerns weighed down Wells Fargo (WFC, Fortune 500) stock midday trading, as shares were down nearly 1%.
Few worries about Wachovia
Wells Fargo was also spared from any big headaches in the quarter related to last fall's purchase of Wachovia.
One of the biggest trouble spots of that acquisition was Wachovia's option ARM portfolio of loans made under the Pick-a-Pay brand, a group of loans that allowed customers to pay less than the full interest payment on new mortgages.
But Wells Fargo said Wednesday that losses tied to Pick-A-Pay loans would be lower than originally anticipated, adding that most of the charges related to the acquisition were taken last fall.
The company also said that expenses related to the Wachovia merger are now expected to be $2.4 billion less than originally anticipated.
"Operationally and financially, the Wachovia merger is exceeding our expectations," said Atkins.
Profits within Wells Fargo's core consumer banking business increased by a third. The company generated bigger profits on its loans, as well as greater fees from its credit card, checking and savings account customers.
And even amid ongoing signs of troubled within the U.S. housing market, the performance of its mortgage business remained robust.
Mortgage banking income nearly quadrupled from a year ago, to $3.1 billion.
"They had blow-out mortgage earnings for the second-straight quarter," said Mitchell.
Still, the company did not mention any plans to repay $25 billion in taxpayer aid it received last fall as part of the Troubled Asset Relief Program, or TARP.
Wells has been portrayed by analysts as one of the healthiest of the large banks. Last month, chief executive officer John Stumpf indicated that Wells intended to pay back TARP money "shortly", adding that it would be done in a "shareholder-friendly way."
Investors interpreted that comment to mean that the bank did not intend to raise money by issuing new shares, but would rather used retained profits to cover the repayment.

Features

These Fortune 100 employers have at least 350 openings each. What are they looking for in a new hire? More

It would be the world's second-biggest economy. See how big companies' sales stack up against GDP over the past decade. More