Hand sanitizer in short supply as swine flu hits
Makers of the antiseptic rush to increase production amid fears of a swine flu pandemic.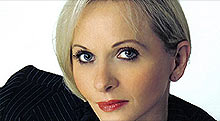 The U.S. health care system is struggling with a shortage of primary care physicians. CNNMoney.com asked readers -- especially those who are medical professionals -- to weigh in on who can help solve the problem. Here are some responses:
NEW YORK (CNNMoney.com) -- Demand for hand sanitizer has gone through the roof since the first cases of swine flu broke out earlier this year, and some makers of the germ-fighting gels are scrambling to keep up.
Market research firm Panjiva recently estimated that 3 million kilograms of hand sanitizer were shipped in the third quarter, compared with 1 million kilograms in the same quarter last year.
Josh Green, chief executive of Panjiva, said concern about the H1N1 virus, also known as the swine flu, is the "most likely explanation" for the surge in volume.
And demand is only expected to rise given the outlook for an exceptionally bad flu season.
In response, the companies that make and distribute Purell, the most popular name-brand hand sanitizer, are ramping up production and urging customers to not hoard the product.
Heavy demand
Johnson & Johnson (JNJ, Fortune 500), which makes Purell and distributes it to retailers, does not provide figures on sales or shipments of items such as hand sanitizer. But the company said demand for Purell has been "heavy" since the first cases of swine flu broke.
"Due to the influenza A (H1N1) virus outbreak this past spring and resurgence this fall, Johnson & Johnson Consumer Companies Inc. has experienced heavy demand on supplies of Purell," said J&J spokesman Marc Boston in a statement.
The company is working to increase production for the remainder of the year and the beginning of 2010, but Boston acknowledged that supplies may be limited in some areas.
"Because of this increase in demand, consumers may currently find limited supplies of Purell Instant Hand Sanitizer at certain retailers," he said.
Don't stockpile
GOJO Industries, the company that invented Purell and distributes it in professional markets, described the increase in demand as "unprecedented."
The Akron, Ohio-based company said it has been running its plants "24/7" and has hired additional workers to help increase output.
"Even with increased manufacturing capacity, there is a limit to how much we can produce in a short period of time," Mark Lerner, GOJO's chief operating officer, said in a prepared statement.
GOJO said it will provide U.S. distributors with more than their normal supply of Purell, but warned that it may not ship the full quantity ordered.
Lerner said the backlog is temporary and that GOJO expects to increase overall production "significantly" through 2010. "There is absolutely no need to stockpile product," Lerner said. "In fact, stockpiling could cause an actual shortage which, in turn, could threaten public health."
Nearly 400,000 people worldwide have contracted laboratory-confirmed cases of swine flu and more than 4,700 people have died from the illness since it was first identified in Mexico and the United States in April, the World Health Organization (WHO) said earlier this month.
Many countries have stopped counting individual cases, particularly of milder illness, according to the WHO. That means the total case count could be significantly lower than the number of swine flu cases that have actually occurred.

Features

These Fortune 100 employers have at least 350 openings each. What are they looking for in a new hire? More

It would be the world's second-biggest economy. See how big companies' sales stack up against GDP over the past decade. More