Amazon profit surges 69%
E-commerce giant blows past Wall Street's expectations, with growth attributed to sales of the Kindle. Amazon reduces prices of the e-reader to $259.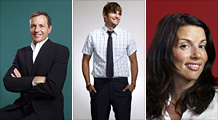 These tech-world luminaries - photographed during our recent Brainstorm Tech conference - aren't just changing the game; they've defined it. Photographs by Robyn Twomey.
NEW YORK (CNNMoney.com) -- It may not have won the book price war (yet), but Amazon defeated Wall Street expectations on Thursday, reporting a 69% surge in third-quarter profit, led by strong sales of its Kindle e-reader.
The Seattle-based e-commerce giant said its net income rose to $199 million, or 45 cents per share, compared to $118 million, or 27 cents per share, in the year-earlier period. Analysts polled by Thomson Reuters expected earnings per share to rise to just 33 cents.
Revenue at Amazon (AMZN, Fortune 500) climbed 28% to $5.45 billion in the quarter, beating analysts' expectations for an 18% rise to $5.03 billion.
Shares of Amazon rose nearly 15% in after-hours trading.
Kindle boost. Sales of electronics and other general merchandise, which represent 43% of Amazon's revenue mix, grew 51% in North America and 48% internationally. Much of that growth was attributed to the Kindle, which first debuted in 2007.
"Kindle has become the No. 1 bestselling item by both unit sales and dollars -- not just in our electronic store but across all product categories on Amazon.com," said Jeff Bezos, founder and CEO of Amazon, in a prepared statement.
Amazon also announced Thursday that it cut the price on its latest generation of Kindle, which debuted earlier this month.
The price for the new Kindle, which has wireless capabilities and can be used globally, was reduced to $259 from $279. The company began shipping the e-reader to 100 countries this week.
Amazon had previously lowered the U.S. price of the Kindle by $40 to $259.
The online retailer's media sales, which include books and music and represent 54% of Amazon's revenue, also increased and contributed to the company's strong quarter, said Sandeep Aggarwal, senior Internet research analyst at Collins Stewart.
Worldwide media sales grew 17% to $2.93 billion compared to last year.
For the fourth quarter, the company expects a profit between $300 million and $425 million. It said sales would fall between $8.125 billion and $9.125 billion, higher than analysts' expectations of $8.114 billion.
But Aggarwal thinks the momentum will continue and Amazon could beat its guidance. "With this level of out performance, I think Amazon will become the best destination for e-commerce this holiday season," he said.

Features

These Fortune 100 employers have at least 350 openings each. What are they looking for in a new hire? More

It would be the world's second-biggest economy. See how big companies' sales stack up against GDP over the past decade. More