Geithner: More TARP paybacks coming
Treasury chief says he expects more bank bailout money will be returned soon.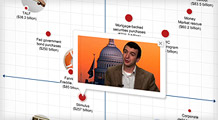 The collapse of Lehman led to a deeper recession and a litany of government programs to try to end the pain. We rate just how bold and effective the plans have been so far.
NEW YORK (CNNMoney.com) -- Treasury Secretary Timothy Geithner said Tuesday he expects a wave of banks to return government bailout money to taxpayers soon.
"It will depend on the institution, but for major banks in the country I think that money will come back relatively quickly," he said.
Speaking before the annual meeting of Securities Industry and Financial Markets Association in New York, Geithner offered few details on when those repayments could happen and from which companies.
Lenders that received taxpayer aid under the Treasury's Troubled Asset Relief Program, or TARP, have already returned nearly $71 billion to taxpayers, helped by renewed interest by private investors in the banking industry.
Still, some $134 billion remains invested in hundreds of community and regional banks, as well big bailout recipients such as Citigroup and Bank of America.
Both companies have been anxious to get out from under the government's thumb, given the level of scrutiny on such issues as how they compensate their employees.
As two firms that were recipients of "exceptional" government assistance, they were required to submit compensation packages for their top 100 most-highly compensated employees to the White House "pay czar," Kenneth Feinberg (Feinberg on the next round of pay rulings)
Geithner's comments Tuesday were tempered, however, by his expectations for automakers General Motors and Chrysler, both of whom double dipped on bailout money.
Even as both firms are putting massive restructuring plans into actions, the Treasury chief warned that it could take some time before either company returns taxpayer funds, especially if nationwide auto sales continue to remain weak.
"It will take time to get out of those companies," he said.

Features

These Fortune 100 employers have at least 350 openings each. What are they looking for in a new hire? More

It would be the world's second-biggest economy. See how big companies' sales stack up against GDP over the past decade. More