Small glove maker lands giant MLB deal
Vinci cracked the majors by building relationships with up-and-coming baseball players.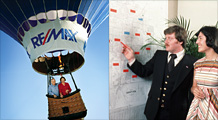 The founders of four breakout companies on how they built billion-dollar global brands like Costco and Re/Max from scratch.
(Fortune Small Business) -- Wilson. Rawlings. Easton. Big brands like these dominate the $132 million baseball glove industry, paying star players big bucks to wear their gear.
Enter Vinci. For the past 12 years the Richmond-based family business has sold its baseball and softball gloves to recreational and minor league players. Its revenues are in the low six figures. It can't afford any licensing deals.
Yet the tiny company recently hit a home run. Vinci has cracked the big leagues, becoming the only glove manufacturer with less than $10 million in annual revenues to attract major league players.
Usually big companies "have a stranglehold to prevent players from wearing other gloves, by basically throwing money at them," says Peter Vinci, who runs the company his father, Pete, founded in 1997.
Vinci's strategy is different. By befriending promising athletes and giving them free gloves, the company tries to get a toehold with players before the bigger brands come knocking.
The strategy seems to work. In the past two years, two Vinci-equipped players have joined major league clubs: Pitcher Vladimir Nez signed with the Atlanta Braves and hurler Carlos Torres went to the Chicago White Sox. Both players brought their gloves with them.
"That glove, it's quality," says Torres, who pitched a shutout wearing a Vinci model MV30 glove in September, during his third-ever major league start. "And if I have [a glove design] idea, I can call and talk to them about it. A bigger business like Nike (NKE, Fortune 500) isn't going to change a glove for one player."
Torres says that although he expects to pick up licensing deals next year, "my agent knows I am keeping my glove."
Torres met the Vinci family in Richmond when his AAA team was playing the Richmond Braves. The Braves have since relocated to Gwinnett, Ga., which Peter Vinci admits may hurt his efforts to nab players as they pass through town.
After all, he doesn't have the budget of Akadema, a $10 million glove manufacturer in Hawthorne, N.J. whose 20 star major leaguers -- most of them paid -- include Manny Ramirez of the L.A. Dodgers. "We could probably have triple the amount of players, but it just comes to a point where we can't afford them," says CEO Joe Gilligan.
Vinci says he's picked up more than 10 new retail outlets since Nez joined the Braves. And with some 100 minor leaguers using Vinci gloves, he's hoping for more hits next summer.

To write a note to the editor about this article,
click here
.