Intel charged with antitrust - NY attorney general
Andrew Cuomo's office alleges computer chipmaker threatened and paid kickbacks to Dell, HP and IBM 'in a worldwide, systematic campaign' to maintain a monopoly.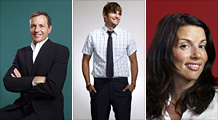 These tech-world luminaries - photographed during our recent Brainstorm Tech conference - aren't just changing the game; they've defined it. Photographs by Robyn Twomey.
NEW YORK (CNNMoney.com) -- New York Attorney General Andrew Cuomo filed an antitrust lawsuit against Intel, alleging the chipmaker threatened computer makers and paid kickbacks to stop them from using competitors' chips, Cuomo's office said Wednesday.
The suit alleges that Intel (INTC, Fortune 500), the largest maker of computer microprocessors, violated state and federal law "by engaging in a worldwide, systematic campaign of illegal conduct ... in order to maintain its monopoly power and prices."
It also charges that Intel's "illegal actions" involved three of the largest U.S. computer makers: Dell (DELL, Fortune 500), Hewlett-Packard (HPQ, Fortune 500) and IBM (IBM, Fortune 500).
The statement from Cuomo's office alleged that Intel paid billions of dollars to large computer makers who agreed to use Intel's microprocessors exclusively. Sometimes, these so-called "rebates" added up to more than a company's reported quarterly net income, the statement said.
In response to these charges, Intel spokesman Chuck Mulloy said, "We disagree with the New York Attorney General. Neither consumers who have consistently benefited from lower prices and increased innovation nor justice are being served by filing this case now. Intel will defend itself."
Microprocessors are the "brains" of most personal computers and are generally sold to manufacturers rather than directly to consumers.
Cuomo also said Intel threatened and punished those "perceived to be working too closely with [its] competitors," doing so by directly funding a computer maker's competitors and ending joint venture projects.
"Rather than compete fairly, Intel used bribery and coercion to maintain a stranglehold on the market," Cuomo said in the statement.
The investigation began in January 2008, and the attorney general's office said it "reviewed millions of pages of documents" before filing the lawsuit in federal court Wednesday.
The suit "seeks to bar further anticompetitive acts by Intel, restore lost competition, recover monetary damages suffered by New York ... and collect penalties," the statement said.
'Bribery and coercion' emails
Cuomo's statement detailed the alleged kickback deals, including internal emails from Intel, Dell, HP and IBM.
The suit claims that some of Intel's illegal practices included paying Dell almost $2 billion in "rebates," threatening to cut off development of an HP server if the company promoted a competitor's products, and paying IBM $130 million not to launch a rival's server.
Many of the alleged deals included references to Intel's main rival, Advanced Micro Devices. (AMD, Fortune 500)
According to Cuomo's statement, a January 2005 email from a IBM executive said: "I understand the point about the accounts wanting a full AMD portfolio. The question is, can we afford to accept the wrath of Intel...?"
An internal Dell email in February 2004 said Intel was "prepared for jihad if Dell joins the AMD exodus. We get ZERO [rebates] for at least one quarter while Intel 'investigates the details.'"
Cuomo said Intel "attempted to erase the most obvious traces" of illegal activity "by camouflaging language" in written correspondence.
A 2006 Internal email from an Intel executive said: "Let's talk more on the phone as it's so difficult for me to write or explain without considering anti-trust [sic] issue."

Features

These Fortune 100 employers have at least 350 openings each. What are they looking for in a new hire? More

It would be the world's second-biggest economy. See how big companies' sales stack up against GDP over the past decade. More