Fighting the five-finger discount
No time to wade through security-camera footage? Help is at hand.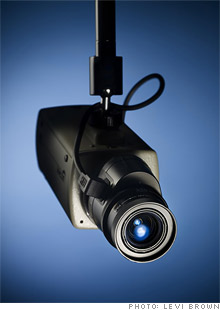 (Fortune Small Business) -- Inventory losses are on the rise, thanks mostly to cashiers giving themselves and friends five-finger discounts. Employees stole an estimated $15 billion from retailers last year, according to University of Florida criminologist Richard Hollinger, who conducts an annual survey of the country's top stores. That's 25% more than stores lost to shoplifters.
In almost all of these cases, closed-circuit-TV monitoring systems failed to spot the crime. "The problem is, you have hours and hours of video to go through," says Hollinger. In recessionary times few companies have the staff to review all that footage.
So Agilence, a small firm in Camden, N.J., is stepping in with a solution: patented software that scans for likely theft moments and a team of "loss prevention" experts to review the results for you. By synchronizing raw security-camera footage with point-of-sale data, the software takes a still image associated with every item scanned at a checkout stand.
The market is crowded: Plenty of companies, including Vfinity and StopLift, sell advanced video surveillance technology. But few offer point-of-sale synchronization, and fewer still include human video analysts in the price of a subscription, which starts at $300 per month.
Rather than having to scan hours of video, Agilence's investigators can quickly review thousands of still images on a computer screen, click on any that appear suspect and call up the full video of the transactions.
The Agilence analysts report likely cases of fraud -- which employers can then see for themselves -- and note areas in which intervention or improved training might help. "A retailer would have to hire 10 employees to do what we do for them," says Pedro Ramos, vice president of operations at Agilence.
In particular, Ramos says, Agilence is seeing an increase in conspiracies between cashiers and customers, known as "sweethearting." The employee may bag an item after voiding a transaction, or simply press the price check button on the register and allow his friend to walk past the checkout station as if a sale had been made.
Hollinger and other experts say Agilence is onto something big. The next step is to automate the process and identify common scam patterns. "We're starting to see the computers getting smarter," Hollinger says. "They soon may be smart enough to send a text message to alert a manager who's actually in the store and can do something about it."

To write a note to the editor about this article,
click here
.