Donald Trump to personal jet: 'You're fired!'
Real estate tycoon is upgrading to a larger plane so his current Boeing 727 is up for sale.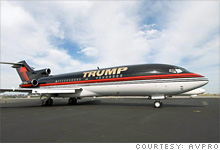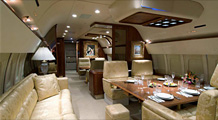 The real estate mogul's upgrading to a larger private jet, so his 1968 Boeing 727, estimated to cost between $4 million and $8 million, is on the market.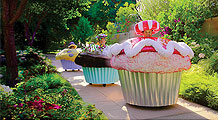 Each year, Neiman Marcus unveils a handful of over-the-top fantasy holiday gifts. Take a quick spin through the luxury retailer's 2009 Christmas Book and you just might forget about scaling back this year.
NEW YORK (CNNMoney.com) -- Donald Trump's personal jet is the latest victim of his famous "You're fired!" line. The real estate mogul's plane is for sale -- and not because he's been hit by the recession.
Trump is upgrading to a larger plane, and "Mr. Trump simply doesn't need two [planes]," said George Sorial, managing director of international development and assistant general counsel at Trump Organization.
The current jet, a 1968 Boeing 727 originally operated by American Airlines, is completely kitted out. It has "all the amenities that you would expect," said Sorial, including gold-plated seatbelt buckles and sinks in the plane's three bathrooms.
In addition the plane, which seats 24, has a master bedroom, ladies bidet, and "abundant storage for fine china and crystal," according to the seller's Web site.
The jet, which is equipped with up-to-date avionics, had a facelift earlier this year with a fresh paint job and a custom logo: the tycoon's last name spelled out in all caps. It's reported that the letters are in 23 carat gold leaf and stretch 30-feet across and 4-feet high.
Todd Rome, president and founder of air charter broker Blue Star Jets, estimates the jet is worth between $4 and $8 million, but notes that it will be expensive to fly and maintain because of its old age.
"The problem with that plane is that the direct operation costs are so high," Rome said. "It has three engines, so it would cost about $10,000 an hour to fly." Rome added that a newer and more fuel-efficient plane of equal size would cost between $10 and $12 million to buy and $2,500 an hour to fly.
"There has to be a specific person who wants that plane -- someone who wants it because it belonged to Donald Trump," Rome said.
Trump uses the plane, which has logged 41,833 hours and completed 29,664 landings, to fly to Mar-A-Lago in Palm Beach, Fla., weekly in the winter, to his projects around the world, including in Las Vegas and Chicago, and overseas to Scotland.
Sorial said Trump will continue to use the jet until it is sold and the new one is delivered, but "obviously we want things sooner rather than later."

Features

These Fortune 100 employers have at least 350 openings each. What are they looking for in a new hire? More

It would be the world's second-biggest economy. See how big companies' sales stack up against GDP over the past decade. More