Auto industry still faces rocky road
Profits at Ford and Toyota, better results at Chrysler and flat industrywide sales are all hopeful signs. But experts say many bumps still lay ahead.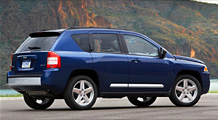 Chrysler is scrambling to revamp its product line. These are the vehicles that will be critical to its success.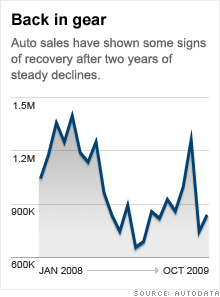 NEW YORK (CNNMoney.com) -- The auto industry has been battered by a never-ending storm of bad news for more than a year, but the last few weeks have been a happy change.
Ford Motor (F, Fortune 500) and Toyota Motor (TM) both reported unexpected profits in the third quarter. Chrysler Group said it broke even in September and that it expects to break even or post a narrow operating profit in its current fiscal year.
U.S. auto sales in October were essentially unchanged from a year ago, an encouraging sign following the Cash for Clunkers sugar rush this summer. American auto plants are even ramping up production once again and calling back laid-off workers.
But experts said that despite this good news, the auto industry hasn't turned the corner just yet.
"The results at Ford, Toyota and Chrysler are a sign that the companies are moving in the right direction," said Tom Libby, president of the Society of Automotive Analysts. "But it's not at all an indication that everything is OK."
Libby said that even though the auto companies have done a good job cutting costs, that won't be enough to produce sustained profits unless there is a significant increase in demand for vehicles worldwide.
Industry executives are cautious as well. Although Chrysler gave a relatively optimistic forecast, executives from Toyota and Ford would not go so far as to predict that the red ink is completely behind them.
Toyota executives said their results were lifted not only by Cash for Clunkers and similar programs around the globe, but by limited capital spending in the first half of its fiscal year. They said it will be tough to repeat this performance in the rest of the fiscal year, which ends in March.
Ford executives predicted that profits would return by 2011, but they wouldn't go so far as to say that the company will remain profitable from now until then.
"The reason we couched it that way is we're just not sure about the strength of the recovery," said Ford chief executive officer Alan Mulally when asked why Ford isn't forecasting a profitable 2010.
Experts said that auto executives are right to be cautious. Most analysts expect industrywide sales of only about 10 million vehicles in the U.S. this year and an increase to somewhere around 11 million to 11.5 million next year. To put that in perspective, annual sales of 11.5 million would still be the second-worst since 1982, with 2009 obviously being the worst.
"There's still a lot of uncertainty about the consumer, and how much sales will get better," said Robert Schulz, chief auto credit analyst for Standard & Poor's. "Things should be better in 2010, but not dramatically better."
David Cole, chairman of the Center for Automotive Research, a Michigan think tank, said sales may not have to improve that significantly to have a big impact though. He said that if sales were to come in above 12 million vehicles next year, the industry could wind up back in the black again.
"We're close," he said. "Things are in a whole lot better shape from the cost standpoint, and even a little bump up in demand should lead to a lot of profits very quickly."
To be sure, there are some other issues facing the industry besides the economy.
Libby said there will be tougher competition from General Motors and Chrysler because of the improvements they made during their respective bankrupt ices. In addition, Hyundai Motor, with its Hyundai and Kia brands, has rapidly become a major player in the U.S. market.
"It's going to be more crowded from many perspectives," said Libby.
Schulz said that he's particularly worried that automakers could quickly end up losing lots of money again if they respond to the recent upturn in demand with too much additional production. That could lead to excess inventories and the kinds of sales incentives that are more destructive to profits than almost anything else.
Besides greater competition, the industry faces tougher fuel economy standards and the rollout of expensive new technologies, such as plug-in hybrids, which will have trouble making money in the near term.
For the most part though, the industry's fate ultimately hinges on whether consumer demand will continue to bounce back. Cole said any new oil price shock would be a blow to the hopes for a sustained industry turnaround.
With unemployment hitting 10.2% in October and consumer confidence continuing to sink, many experts don't think the economy is strong enough just yet to give the industry the lift it needs.
"There's some improvement. People can get loans now," Schulz said. "Whether they'll want to borrow, whether they're ready to buy, that's the big thing."

Features

These Fortune 100 employers have at least 350 openings each. What are they looking for in a new hire? More

It would be the world's second-biggest economy. See how big companies' sales stack up against GDP over the past decade. More