Subsidizing inner peace
A lingerie designer uses meditation to help herself, her business and the world.
Photos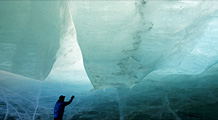 NEWBURYPORT, Mass. (Fortune Small Business) -- Fashion isn't an industry typically known for its commitment to selflessness (or, for that matter, sitting quietly). But for more than 20 years, Jacalyn Bennett has been building a booming lingerie business on the unlikely principles of spirituality, benevolence and meditation.
The 56-year-old designer is owner and founder of Jacalyn E.S. Bennett & Co., a $30-million-a-year firm based in Newburyport, Mass. that designs lingerie for Abercrombie & Fitch (ANF), Frederick's of Hollywood, Hanes (HBI) and Victoria's Secret, among other brands.
Growing up in New York City, Bennett was introduced to Eastern philosophies and practices by her father, a lawyer who took pro bono cases and was interested in Buddhism. But it was an offer to work in India after her graduation from the Fashion Institute of Technology in 1973 that set Bennett on the path to what she calls enlightened entrepreneurship. In India, Bennett taught women how to use sewing machines, a twist on the old "teach a man to fish" concept. She would later launch training programs for mothers and their children in both India and Sri Lanka.
"A woman can support her whole family with one sewing machine," she says.
Bennett's father died shortly before her trip to India, and she found solace in meditation. "Meditation taught me that the only thing we have any control over in this life is ourselves," she says.
After returning home in 1984 to launch her design business, she incorporated the Gandhian ideals she had come to embrace. "Meditation can encourage things that are often lacking in businesses -- like peace, compassion and sanity," she says. "If I've got something that keeps me from ripping my hair out daily, I'm a better boss for it."
Since 1990 Bennett has helped fund and build a dozen not-for-profit meditation facilities in the U.S. and abroad, including the Cambridge Insight Meditation Center in Massachusetts and the Vishva Niketan International Peace and Meditation Center in Moratuwa, Sri Lanka, where she established a training program in healing meditation following the 2004 tsunami. (In April the Sri Lankan government awarded her the title of goodwill ambassador.)
In 2008 Bennett helped fund the Insight Meditation Center of Newburyport, less than a mile from her company's offices. There, more than 10,000 people a year, including many of Bennett's employees, take yoga and meditation classes and attend lectures on topics such as growing old and dealing with death.
"To truly know ourselves, we need to understand all people and realize that we're all equal," Bennett says. "I have a company; that doesn't mean I can change my employees. I can, however, give them the opportunity to go in one direction or another."

To write a note to the editor about this article,
click here
.