A truffle farmer's black diamonds
A North Carolina entrepreneur wants America to fall in love with truffles.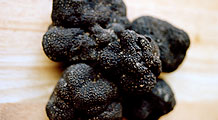 A North Carolina entrepreneur wants America to fall in love with truffles.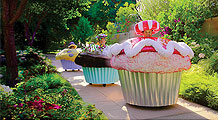 Each year, Neiman Marcus unveils a handful of over-the-top fantasy holiday gifts. Take a quick spin through the luxury retailer's 2009 Christmas Book and you just might forget about scaling back this year.
HILLSBOROUGH, N.C. (Fortune Small Business) -- I take my first bite of a truffle in Franklin Garland's sunlit kitchen, which overlooks a greenhouse and an orchard of budding hazelnut trees.
In 1992, Garland became the first person to harvest and sell French black truffles on American soil. Today he stands at a table chopping lemon-size fungi. He hands me a shaving the size of a wood chip. When I chew it, a musky, acrid flavor explodes in my mouth and I -- quite visibly -- swoon.
"It's intoxicating, isn't it?" says Garland.
He and his wife, Betty, have entertained truffle lovers, foodies and would-be growers hailing from as far away as New Zealand. Visitors flock to their four-bedroom ranch-style house in this small North Carolina town to learn how to farm and hunt for the rare fungi. Although black truffles are harvested only from November through March, tourists visit throughout the year. A presentation, lunch and a trip to a truffle-bearing orchard cost $300.
The truffle is one of the world's most desirable culinary treasures, a rare delicacy that has graced the tables of European royalty for centuries. Among the dozens of truffle species, the most valuable are the Italian white and the French black Prigord. Gallic farmers have cultivated black truffles for at least 200 years. But as the local crop dwindles -- explanations range from arid French summers to the decline of the tradition -- new suppliers are emerging in countries such as Spain, where many black truffles are now farmed, and China.
Although truffles may look like something you'd pick up in a plastic bag while walking your dog, their piquant shavings adorn the priciest dishes at top restaurants around the world. And when I held one of Garland's black truffles in my palm, the tiny, jewel-like facets that cover its surface almost glowed, making it look like a black diamond.
That might explain the price: A pound of white truffles costs as much as $4,000, while a pound of the more common black Prigords goes for $800.
As Garland shows me around the 57-acre property, we're joined by Charles Bradley, a soft-spoken neighbor who has become a reliable grower under my host's tutelage. Entering the greenhouse, where the air feels tropical, we find tens of thousands of twiglike baby hazelnut and oak trees sitting in small boxes lined up in neat rows. When they grow to about four inches tall, Garland "inoculates" them: He applies truffle spores to the roots, where they will take hold and mature. He says he invented his proprietary method in 2001, although he won't reveal anything about it other than its acronym: RFM.
"It means 'really fun method,'" jokes Bradley, who admits that he doesn't know Garland's secret either. ("Only Betty and I do," says Garland.) Whatever it is, it seems to be working. According to Garland, 14 of the 15 American farms that have successfully harvested black truffles use trees inoculated by the "Garland method."
Jane Morgan Smith, president of the North American Truffle Growers' Association and owner of Keep Your Fork Farm in King, N.C., purchased 125 trees from Garland in 2000 and reaped her first small harvest in 2006. "We had faith in him," says Smith, who unearthed five pounds of truffles last year.
Garland harvests only a few pounds each season from his property, though he expects that to change when his new orchard matures in 2014 (it takes seven to 10 years after planting for a crop to emerge). He makes a living by selling about 30,000 inoculated trees annually to farmers around the world. At $22 a pop, that provides him with revenues in excess of $500,000, which he augments with tours, how-to books and commissions from selling other people's truffles for them. He and Betty plan to grow the agritourism side of the business by constructing several luxurious cabins on the property and renting them to truffle enthusiasts. And they aim to expand the greenhouse to 100,000 trees next year. "The market isn't close to saturated," he says.
A truffle empire takes root
Garland first planted trees carrying black truffle spores in 1980. At the time he was working as an electronics engineer, having recently graduated from Carnegie Mellon University in Pittsburgh, where he studied math and psychology. He had read about truffle cultivation in the Wall Street Journal and was intrigued by the idea, so he paid a California grower $8,000 for 750 hazelnut trees, which he planted on his property in North Carolina. For the next decade, he kept his day job and waited for the trees to mature.
Then, in 1992, Garland noticed the shallow, porous surface of a truffle jutting out of the dirt near the trunk of a hazelnut tree in his orchard. Within a few years of that discovery, he and Betty were supplying celebrity chef Emeril Lagasse with black truffles; in 2007 they appeared on The Martha Stewart Show.
"The quality of product they've developed is amazing," says Todd Gray, a James Beard-nominated chef who has cooked for Barack and Michelle Obama at his Washington restaurant, Equinox.
U.S. truffles are desirable to stateside chefs because they're fresher and tariff-free. "European truffles lose some of their flavor by the time they cross the ocean and get to the U.S.," Garland says. And although white and black truffles grow abundantly in Oregon, some foodies complain that they're subpar and point to the price as evidence: Oregon truffles go for as little as $100 a pound.
Jim Wells, the owner of Oregon Wild Edibles, a Eugene-based truffle distributor, responds that most local growers are amateurs who harvest their truffles too early. "There are many valid reasons why the reputation of Oregon truffles is poor," he says. "It's not the fault of the truffles."
Truffle hunt
After driving 25 minutes to Bradley's house in Mebane, we near the wide, open meadow that surrounds his home. I can see the truffle orchard -- a tidy two-acre grid of hazelnut trees that look like brown umbrella skeletons stuck upside-down into the ground. I was expecting something similar to an apple orchard, with luscious foliage, but the grass here is sparse, especially around the trees' slender trunks.
"Those areas are the brûles," explains Garland, scuffing the dirt with the toe of his boot. Like crop circles, these dirt rings signify something mysterious -- in this case subterrestrials, not extraterrestrials. When truffles sprout underground, they suck up the nutrients from below, causing the surface vegetation to die.
We walk slowly through the orchard with Bradley's golden retriever, Molly, and his beagle, Peedee, both experienced truffle hunters. Whereas humans can find truffles only by digging at random, dogs can smell them -- they typically grow about three inches below the surface -- from hundreds of yards away. Peedee quickly takes the lead by walking through the trees with his nose to the earth as we eagerly stalk behind. "Find truffle! Find truffle, Peedee!" Garland hisses.
As we snake through the dense rows of trees, I feel massive webs of exposed roots crisscrossing beneath my feet. Root density, Garland tells us, is an important factor in growing truffles. Another is pH: The soil must be at an alkaline level sufficient to support tree and fungus alike. Garland frequently travels to the Bradleys' orchard and those of his other clients to ensure that the plants are properly maintained. "The only way I'll make money is if they make truffles," Garland says. "It shows that I believe in my product."
As I venture off on my own, occasionally bending over to graze the dirt with my hand, I hear calls that Peedee is scratching at the dirt.
We rush to the excited beagle's side and hunch in a circle around him. Sensing that he has an audience, Peedee stops digging and rolls onto his back, awaiting a belly rub and a treat. Garland feeds him, then picks up a spade and gently prods the dirt around the area. He uses his hands to scrape it away.
As he dislodges more soil, a circular outline appears in the ground. Digging around it with his fingers, Garland extricates a baseball-size black truffle and passes it to me. It feels cold and heavy in my hand, but when I hold it to my nose -- whoosh! -- I am swept up in that pungent, earthy smell. All it takes is a sniff to realize the lump I'm holding is worth more than $100.
Earlier in the afternoon, I had asked Bradley why he was investing so much in a crop that's so difficult to grow. Was it the thrill of discovery? The sense of belonging to something special? Yes, he said. It was both of those things.
Now, as we leave his orchard, I look back at the field of seedlings, a soiled, deeply scented truffle in hand, and wonder what it's like to pour your dreams into dirt -- and pray that they turn into diamonds.

To write a note to the editor about this article,
click here
.