Ford Fusion: 2010 Motor Trend Car of the Year
Redesigned mid-sized car takes prominent magazine award.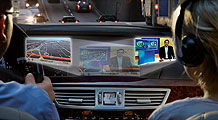 Cars that park themselves. Driver-passenger split screen computers. Night vision. Just a few of the innovations that make driving easier, safer and more fun.
Find your next Car

NEW YORK (CNNMoney.com) -- Motor Trend magazine named the Ford Fusion mid-sized sedan as its 2010 Car of the Year on Tuesday. The award includes both the gas-only and hybrid versions of the Fusion.
This year's Car of the Year was selected from among a field of 22 different cars all of which were newly introduced or, like the Fusion, substantially redesigned for the 2010 model year.
The Fusion was first introduced in 2006 but has been substantially upgraded and redesigned for the 2010 model year.
"It's a credit to the [Ford] team to deliver a car in the hottest selling segment in the market and to make it absolutely competitive with the benchmarks," said Motor Trend editor-in-chief Angus McKenzie at an award presentation ceremony.
The benchmark cars in the mid-sized segment are generally considered to be the Toyota Camry and Honda Accord, which have been the two top-selling cars in America for years.
McKenzie praised the Fusion for the excellence of all versions of the car including the 4-cylinder, V6 and hybrid models.
"Another thing that impressed us was the attention to detail," McKenzie said.
While the 2010 Fusion shares much of its engineering with the previous version, the car looked and felt like a completely new car, McKenzie said.
Motor Trend, one of the most influential automotive enthusiast magazines in the United States, also gives out SUV of the Year and Truck of the Year awards. The SUV of the Year was announced earlier with the award going to the 2010 Subaru Outback. The Truck of the Year will be announced in December.
Vehicles were judged on six different criteria: design, engineering, efficiency, safety, value and how well the vehicle fulfills its intended function.
The cars were put through track tests by Motor Trends editors. Then cars that were not eliminated in the track testing process were put through additional road tests.
Derrick Kuzak, Ford Motor Co. group vice president for product development credited the Fusion with "getting Ford back into the car market" in 2006 after the carmaker had become competitive only in large trucks and SUVs.

Features

These Fortune 100 employers have at least 350 openings each. What are they looking for in a new hire? More

It would be the world's second-biggest economy. See how big companies' sales stack up against GDP over the past decade. More