Goldman, Buffett launch $500 million small biz initiative
The bank is teaming with the legendary investor to boost financing and lending programs for underserved business owners.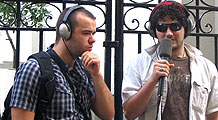 The government's Emerging 200 program aims to boost job growth by training inner-city entrepreneurs to expand their businesses. Here's how it's playing out in 5 cities.
Photos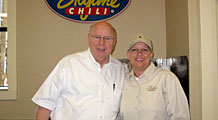 NEW YORK (CNNMoney.com) -- Goldman Sachs earned an eye-popping $3.2 billion last quarter. Now it's decided to share some of that with the little guys.
The bank said Tuesday that it is launching a $500 million initiative called "10,000 Small Businesses," aimed at unlocking the job creation and economic growth potential of America's small companies. The project's advisory council features an array of business luminaries, including Warren Buffett, Goldman Sachs' largest shareholder. Goldman CEO Lloyd Blankfein and Harvard professor Michael Porter will join Buffett in co-chairing the group.
"Our recovery is dependent on hard-working small business owners across America who will create the jobs that America needs," Buffett said in a prepared statement. "I'm proud to be a part of this innovative program which provides greater access to know-how and capital -- two ingredients critical to success."
Goldman Sachs (GS, Fortune 500) said it will contribute $200 million for scholarships to community colleges and universities around the country. The money is intended to fund training and educational opportunities for underserved business owners.
The bank is also setting aside $300 million to support Community Development Financial Institutions (CDFIs). Certified by the Treasury Department, CDFIs include banks, credit unions and investment funds that target low-income and otherwise disadvantaged populations.
Goldman is seeking a return on some of its community development support: The bank said its CDFI investment will be a combination of loans and philanthropic donations.
Goldman Sachs representatives were not immediately available for further comment on the specifics of the new initiative.
The "10,000 Small Businesses" project comes at a time when many banks -- including Goldman -- have pared back their small business lending. Over the last six months, Goldman has cut the balance of its outstanding loans to small businesses by $191 million, according to a Treasury report released this week. Goldman's small business loan balance currently stands at $3.8 billion.
Obama administration officials, including Treasury Secretary Tim Geithner, will gather on Wednesday in Washington to address the grim state of small business lending.
Last fall's financial meltdown had a cataclysmic -- and lingering -- effect on small business financing. The nation's biggest banks have collectively shaved $10.5 billion from their small business lending balances over the past six months, and small business owners are struggling to get the credit lines they need to run their companies.
Goldman Sachs' CEO on Tuesday apologized for his bank's part in contributing to financial meltdown.
"We participated in things that were clearly wrong and have reason to regret," Blankfein said at a corporate conference in New York. "We apologize."

To write a note to the editor about this article,
click here
.