Thanksgiving: Highways will be more crowded
Holiday travel expected to rise by 1.4% from last year, but fewer Americans will fly, AAA says.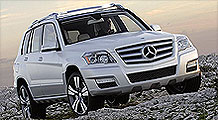 While Asian automakers dominate the influential magazine's reliability survey, there's some good news in there for Ford too.
NEW YORK (CNNMoney.com) -- After a sharp drop last year, more Americans are expected to travel for the 2009 Thanksgiving holiday, although travel by air will decline, according to a forecast from motorist group AAA issued Wednesday.
AAA said that 38.4 million Americans will travel at least 50 miles from home for the Thanksgiving weekend, an increase of 1.4% from last year, when 37.8 million traveled. The average distance traveled will be 815 miles, the group said, though more than a third will travel 250 miles or less.
Driving will account for most of the travel increase, with 33.2 million Americans expected to travel by car, up 2.1% from the 2008 season, according to AAA. (American Road Trip - CNN.com)
Taryn Hoffman of Palm Beach, Fla. said that she and her husband plan to drive six hours to Asheville, N.C. to cook Thanksgiving dinner for their two sons and their newborn grandchild.
"We're going to make a little road trip out of it," she said.
Hoffman said they plan to visit friends in South Carolina on the way up and they'll start the trip on Saturday to try and beat the bulk of the pre-Thanksgiving traffic.
Normally they fly, said Hoffman, but "the holiday tickets were very high."
Air travel will decrease 6.7% to 2.3 million travelers. That would continue a decade-long trend, as Thanksgiving air travel has plunged 62% since 2000.
Travel by train, boat, bus and other means is expected to edge up 1.2% to 2.9 million Americans, AAA said.
Glen MacDonell, director of travel services for AAA, said in a press release that the projected increase is "another hopeful sign that economic conditions are stabilizing and improving in some areas."
It would be a dramatic contrast to last year, when Thanksgiving travel plunged 25.2% compared to 2007.
The weekend is historically the busiest to travel each year, sometimes leaving indelible memories on those travelers.
Diane Hendley, an assistant manager at a Whole Foods Market in New York, said she is not planning to travel this Thanksgiving.
She said she was scarred by her Thanksgiving travel experience from two years ago, when she set out on a trip to visit relatives in Maryland and North Carolina.
"In 2007, it was just ridiculous," she said. "The bus was delayed. The train was delayed. Every year, it just gets worse and worse. I'm just staying home."
The cost of Thanksgiving
AAA said the average household will spend $718 for the holiday weekend. The largest part of that, 32%, will be for travel, while 21% will go toward food and beverages.
The motorist group did not provide a cost comparison to prior years. But it said the cost of fuel, which would account for $101 of the $718 average total, has gone up.
The nationwide average price for a gallon of unleaded gas is $2.63, according to AAA. While that falls short of the record $4.11 set in the summer of 2008, it's up 25% from one year ago and 63% from last December's low.

Features

These Fortune 100 employers have at least 350 openings each. What are they looking for in a new hire? More

It would be the world's second-biggest economy. See how big companies' sales stack up against GDP over the past decade. More