A cheaper way to scan for cancer
A conversation in a hotel lobby led to a cancer detection breakthrough.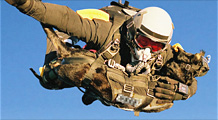 Wireless electricity. Invisible speakers. A mind-reading headset. See what's coming in 2010.
(Fortune Small Business) -- Greg Colip had a comfortable life as a Houston attorney specializing in the oil-and-gas industry. He never thought he'd become an expert in cancer screening. That changed when a friend arranged a quick chat with Jerry Bryant, a local scientist, in a hotel lobby. That led to the creation of Cell>Point, a company that plans to deliver a cheaper and more effective way to detect tumors in 2010.
Doctors rely on positron-emission tomography (PET) scans to see tumors. But PET machines cost more than $2.5 million apiece and are usually found only in major medical centers. Bryant's employer, MD Anderson Cancer Center in Houston, had developed a chemical that could light up a tumor on a common SPECT (single photon emission computed tomography) camera. He wanted Colip, 62, a pharmaceutical industry veteran, to help turn it into a product.
"We knew we were onto something special," says Colip.
SPECT cameras are used for bone scans and cardiac imaging. More affordable at $800,000 or less, they are found in six times as many U.S. hospitals as PET scanners. Better yet, Cell>Point's isotope uses 70% less radiation than PET isotopes and should cost about half as much -- about $800 per scan. Colip says doctors using his SPECT system have found tumors as small as 2 millimeters --- about the size of the top of a hatpin. That tells them more reliably whether the tumors are malignant, saving unnecessary biopsies and surgeries. (Around 40% of PET scans give a false-positive diagnosis.)
Another bonus: Doctors could determine earlier whether a cancer treatment was working -- within about two weeks, instead of up to five months with PET scans.
Cell>Point "could have a very nice role to play in monitoring therapy," says Michael O'Connor, professor of radiologic physics at the Mayo Clinic in Rochester, Minn., where a clinical trial of the isotope is under way on lung cancer patients. Four other cancer centers, including Johns Hopkins in Baltimore and Montefiore Medical Center in New York City, are doing similar testing. And to fund the costly FDA approval process, Cell>Point has raised $33 million from small investors -- mostly doctors.
Cell>Point also sponsored further research at MD Anderson. The company may be able to use the same isotope to deliver treatment to tumors, because it can go directly to the nuclei of cancer cells and become part of their DNA.
The company is also working on a system that can spot early signs of Alzheimer's disease. Colip may soon be an expert in brain scans as well.

To write a note to the editor about this article,
click here
.