Bankruptcies spike 33%
Number of bankruptcy filings in third quarter of 2009 soars to highest level since 2005. Business bankruptcies filed this year top 2008 total.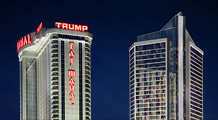 Many big companies have managed to emerge from Chapter 11, but it's a lot harder to bounce back from a second bust...or a third.
Map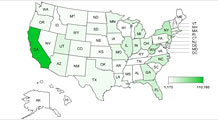 NEW YORK (CNNMoney.com) -- The total number of bankruptcies filed in the third quarter surged 33% in 2009 and is at the highest level since 2005, according to data released Wednesday.
The American Bankruptcy Institute, an industry research firm, said 388,485 bankruptcies were filed during the last quarter, compared to 292,291 filed during the same period in 2008, according to data released by the Administrative Office of the U.S. Courts.
Filings for the first nine months of the year climbed 35% to 1,100,035, compared to 841,496 filings during the same period in 2008. A total of 1,117,771 bankruptcies were filed last year.
"The spike in bankruptcy filings for both consumers and businesses reflect the continuing effects of today's weak economy," said ABI executive director Samuel Gerdano in a statement. "With unemployment surpassing 10% and credit to businesses remaining tight, consumers and businesses are increasingly turning to the financial relief of bankruptcy."
Bankruptcies are at the highest level since 2005, when 2,078,415 were filed before Congress passed amendments to the Bankruptcy Code, said ABI.
In October 2005, Congress implemented legislation making it more difficult for filers to prove they should be allowed to clear their debts in a Chapter 7 bankruptcy, forcing more to file under Chapter 13. The law triggered more Americans to rush to file for bankruptcy in the months before the law went into affect.
The ABI report said business bankruptcy filings rose 32% in the third quarter of 2009 to 15,177, and filings for the first nine months of the year totaled 45,510, topping the total 43,546 business bankruptcies filed in 2008.
Personal bankruptcies increased 33% to 373,308 during the last quarter, led by a 42% hike in Chapter 7 filings, which totaled 265,721. The number of consumers filing Chapter 13 bankruptcies rose 15% to 107,142 filings in the third quarter, according to ABI.
During a twelve-month period ending Sept. 30 2009, the report said total filings increased more than 34% to 1,402,816, compared to 1,042,993 in the same period of 2008.
Nevada had the highest rate per capita filings in the country, with 10.49 residents per thousand filing for bankruptcy in the year ended Sept. 30. The state also had the highest rate of filings for chapter 7 bankruptcies at 7.53.
Tennessee had the highest rate of filings for Chapter 13 bankruptcies in the 12-month period with 4.36 people per thousand.

Features

These Fortune 100 employers have at least 350 openings each. What are they looking for in a new hire? More

It would be the world's second-biggest economy. See how big companies' sales stack up against GDP over the past decade. More