Cyber Monday: Hope for disappointed stores
Retail group reports lackluster holiday sales despite big crowds, but online shopping shows signs of strength.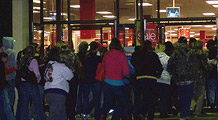 Images of Black Friday shoppers from filled-up parking lots to empty shelves.
NEW YORK (CNNMoney.com) -- The good news for merchants is that more Americans this year turned out to bag Thanksgiving weekend deals than last year. The bad news, however, is that shoppers on average spent less on their purchases compared to a year ago.
For nervous sellers, it's next about Cyber Monday, or the online retail world's version of Black Friday, when millions of people take a few minutes at work to surf the Web to score "doorbuster"-like deals from e-tailers.
About 195 million people shopped in stores and online between Thanksgiving and Sunday, up from 172 million a year ago for the same four-day period, the National Retail Federation (NRF) said Sunday.
But average spending over the weekend dropped to $343.31 per person from $372.57 a year ago. Total retail spending for the holiday weekend was about $41.2 billion, the group said in a report, up marginally from $41 billion last year.
Despite scenes of filled parking lots throughout Black Friday, total sales for the day were just slightly improved over last year. And to illustrate how bargain conscious shoppers were, the NRF said the percentage of shoppers who were at the stores by 5 a.m. Friday was 31.2%, up sharply from 23.
"While retailers are encouraged by the number of Americans who shopped over Black Friday weekend, they know they have their work cut out for them to keep people coming back through Christmas," NRF president and CEO Tracy Mullin said in a statement.
In a surprising trend, department stores beat out discounters as the destination of choice over the weekend. Nearly half, 49.4%, of holiday shoppers visited at least one department store over the weekend, a 12.9% increase from last year, the group said.
About 43.2% of gift buyers headed discounters like Wal-Mart and Target stores. Electronics stores, clothing chains and grocery stores also attracted crowds, the report said.
Sales with a click
It was a stronger picture for Internet retailing.
Web-based purchases totalled $595 million on Black Friday, up 11% from a year ago, making Friday the second heaviest online spending day so far this year, according to a report Sunday from research firm ComScore.
Online shopping will garner more attention Monday -- the so-called Cyber Monday -- when many Americans will troll for deals on the Internet.
The NRF estimates that 96.5 million Americans plan to shop on Cyber Monday this year, up from 85 million in 2008. The group said 88.2 million Americans will shop from home on Monday but plenty of consumers - an estimated 13.5 million - will also look to lock in deals during their workday.
Most retailers who sell online will have special Cyber Monday deals that include one-day sales and free shipping on all purchases.
Despite the hype associated with Cyber Monday, industry experts say the busiest online shopping day tends to be in December, and is the last day that gifts can be shipped to guarantee deliver by Christmas Day.
Among the hot items with strong online sales Friday were the Tom Tom GPS systems, Kodak digital cameras and the Nintendo Wii, according to credit card fraud prevention company Retail Decisions. The company said the busiest single minute for sales Friday was 12:59 p.m. ET, when $5.6 million in products were sold -- a 121% increase from the same time last year.
A survey by a Web performance company, Keynote Competitive Research, said that while all sites experienced slowdowns on Black Friday, there were fewer outages overall than last year. Among the sites it said were the best performing were those of Wal-Mart, Sears, Barnes & Noble and Victoria's Secret, and the online-only sites Overstock.com and Newegg.com.
Under control
Although Black Friday seemed to be missing the usual mayhem associated with it, the good news for merchants was that shoppers eagerly spent money on toys, cashmere sweaters, Snuggie blankets and gadgets at juicy discounts .
"What I've noticed so far is that [consumer] traffic is on par with last year, but people are buying more," said Marshal Cohen, chief retail analyst with market research firm NPD Group.
Compared to previous years, Cohen said the Black Friday atmosphere appeared to "be more tame."
Wal-Mart, which saw Black Friday 2008 tainted by the death of a temporary worker in a shopper stampede in Valley Stream, N.Y., said the day passed without much incident -- although a.store in Upland, Calif., was forced to shut its doors after shoppers got a bit too rowdy.
"We've heard of a few scuffles among customers, but overall it has been a very safe event," a Wal-Mart spokesman said.
Toy story
One closely watched sector during the season is toys. Zhu Zhu, the electronic pet hamster, was flying off shelves at Toys R Us and emerged as the frontrunner for this year's must-have toy. (Black Friday shoppers hear the call of Zhu Zhu)
Toys R Us, the nation's leading specialty toy retailer, opened its stores at midnight on Thanksgiving. CEO Gerald Storch told CNNMoney.com that about 1,000 people lined up on average at his company's stores.
In addition to Zhu Zhu, Storch said other hot sellers included Princess Tiana dolls, from the new Disney (DIS, Fortune 500) animated movie "The Princess and the Frog," as well as video games and crafts products such as the Paperoni 3-D picture set.
The retailer has been aggressive in price cutting this season as it does battle with discounters Wal-Mart and Target. "History has shown that economic downturns are a great time for those who are aggressive, so we're very aggressive this year," Storch said.
Jim Fielding, president of Disney Store Worldwide, said Black Friday was a big day for his company's 205 U.S. retail stores. He said hot sellers were toddler dolls, classic dolls, Buzz and Woody action figures from "Toy Story" and $10 plush toys.
"I would say that shoppers are focused on value," said Fielding. "But you could find value at $10 or at $50."
This year, more retailers opened their stores at midnight instead of the typical 5 a.m. Black Friday openings.
Fielding said the extra pre-dawn hours of business worked for Disney stores. "We're able to better manage the demand and spread [customer] traffic throughout the day," he said. "This may not become the norm for Black Friday for all retailers, but I think we will continue to be committed to it for the foreseeable future."
Tough challenge for merchants
The day after Thanksgiving is dubbed "Black Friday" because it traditionally marks the day of the year when retailers finally move out of the red, indicating losses, and into the black, representing profits.
But despite the hype surrounding Black Friday as the "unofficial" start to holiday gift shopping, it's not the busiest shopping day of the year. That day invariably is the Saturday before Christmas, which is Dec. 19 this year.
Still, for retailers, November and December are crucial sales months because the combined period can account for half, or more, of their sales and profits for the full year.
Although retailers know that they're facing an uphill battle to grow sales amid a tepid spending environment, the hope is that this year's holiday season will at least be an improvement from the previous year.
The NRF expects holiday sales to decline 1% versus a 3.4% drop in holiday sales the previous year.
The group maintains that even though many Americans have had a year to adjust to the recession, continued job losses and stagnant income growth are forcing many consumers to restrain their shopping impulses and shop only for necessities.
-- CNNMoney.com staff writer Aaron Smith contributed to this report.

Features

These Fortune 100 employers have at least 350 openings each. What are they looking for in a new hire? More

It would be the world's second-biggest economy. See how big companies' sales stack up against GDP over the past decade. More