Treasury tightens screws on mortgage firms
Loan servicers must detail plans to assist borrowers long term. Laggards could face penalties and sanctions.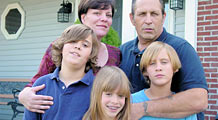 After losing their homes, these 4 families thought they'd never recover. They've found it difficult to rent and their credit is wrecked, but life is looking up.
NEW YORK (CNNMoney.com) -- Looking to jumpstart its foreclosure prevention plan, the Obama administration announced new steps Monday to pressure loan servicers to help homeowners long term.
Responding to complaints that too many borrowers are stuck in trial adjustments, administration officials said they will now focus more heavily on getting borrowers into permanent modifications. Government swat teams will go to the institutions to see what the holdup is and banks will have to submit progress reports twice a day during December.
"Now it's up to the banks to do their part to covert borrowers to permanent modifications," said Michael Barr, an assistant Treasury secretary. "Servicers to date have not done a good enough job."
Only a tiny percentage of troubled homeowners have received permanent modifications, raising concerns about the effectiveness of the $75 billion effort. Treasury officials will release the first comprehensive look at the conversions next week.
Top loan servicers will be required to report the status of each modification and their plan to reach a decision. Also, these servicers must say how they will communicate decisions to borrowers.
Those failing to meet their obligations could face so-far unspecified penalties and sanctions.
Servicers have been hiring and training more staff and implementing new technology to work with borrowers.
"Servicers recognize the importance of turning trial modifications into permanent situations," said Faith Schwartz, executive director of Hope Now, a coalition of servicers, community groups and mortgage investors working to stem foreclosures.
Treasury officials also urged borrowers to be more diligent in sending in the documents needed to evaluate their applications. Only one-third of homeowners who have made at least three trial payments have submitted all the needed forms, said Phyllis Caldwell, the new head of Treasury's Homeownership Preservation Office. Some 20% have not submitted any paperwork.
To help borrowers through the process, the administration is providing more information on the documents they need to submit to be considered for a permanent modification. Federal, state and local officials will increase outreach to delinquent homeowners.
Stuck in trial modifications
A growing number of borrowers are complaining that they are not receiving long-term assistance, fueling concerns that the plan will fall far short of its goal to help up to 4 million delinquent homeowners.
Under the president's plan, delinquent borrowers are put into trial modifications for several months to make sure they can handle the new payments and to give them time to submit their financial paperwork. Once the modification becomes permanent, servicers, investors and homeowners are eligible to receive thousands of dollars in incentive payments.
Loan servicers, however, say they are having trouble getting the necessary documents from borrowers, while homeowners maintain that their financial institutions are repeatedly losing the paperwork. Once their files are complete, borrowers may be denied long-term help if they don't meet the program's criteria.
Some 650,000 homeowners are currently in this preliminary phase, receiving payment reductions of about $576 per month, Barr said. About 375,000 people should be eligible to receive long-term relief by year's end.
Preliminary data shows that, as of Sept. 1, only 1,711, or 1.26%, of all trial adjustments were made permanent after three months. These figures come from the Congressional Oversight Panel, which monitors the government's use of bailout funds.
He would hope to see 50,000 to 100,000 people receiving permanent modifications by now, but is concerned the figure will be much lower.
"If we don't see a big increase in the permanent modification numbers, then there's something seriously wrong with this program," said Alan White, a law professor at Valparaiso University. "I can only assume the number is appallingly low."
White said he hopes that next week's report will show that at least 50,000 to 100,000 permanent modifications have been made.
Watching the banks
Increasing oversight of the servicers' modification efforts should help, White said.
This is not the first time the administration has had to twist the screws on servicers. Over the summer, Treasury and Housing department officials called bank executives to Washington, D.C., and told them to ramp up their trial modification efforts.
Treasury in August began publishing monthly reports detailing each institution's progress in putting borrowers into trial adjustments. The idea was to shame servicers who were lagging and officials say they are pleased with the results. Borrowers in trial modifications jumped from 235,000 at the end of July to 650,000 three months later.
"We did see it help dramatically in increasing the number of trial modifications, which was the focus over the summer," Barr said. "We're now going to the next stage, which is to focus the banks' attention on the need to go to permanent modifications."

Features

These Fortune 100 employers have at least 350 openings each. What are they looking for in a new hire? More

It would be the world's second-biggest economy. See how big companies' sales stack up against GDP over the past decade. More