Cyber Monday: A lot of clicking and shopping
Report says sales rose 14% over last year and shoppers on average spent more online than they did on Black Friday.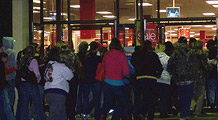 Images of Black Friday shoppers from filled-up parking lots to empty shelves.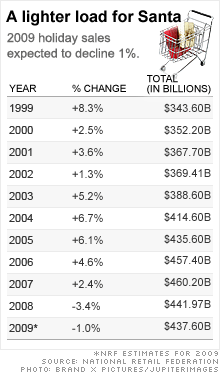 NEW YORK (CNNMoney.com) -- Did Cyber Monday outshine Black Friday this year?
Early reports suggest that Americans shopped more enthusiastically online for holiday bargains than they did in stores on Black Friday.
Cyber Monday sales rose 14% this year compared to 2008 and consumers also bought nearly 30% more items per order versus last year, according to research firm Coremetrics.
Also, the firm said shoppers bought 10% more items per order online than they did in stores on Black Friday.
"We are seeing good online buying momentum because people are looking for the very best deals, and are going online for the most convenient way to shop," John Squire, chief strategy officer, Coremetrics, said in a report Tuesday.
Clothing and jewelry e-tailers were the most popular shopping destinations on Cyber Monday. Although department stores saw a 33% increase in traffic to their Web sites, the average order volume actually fell 10% versus last year, the report said.
Kindle top seller at Amazon.com
Cyber Monday, which is the e-tailers version of Black Friday, is the day that e-tailers furiously push big discounts, free gift cards, free shipping and any other gimmick they can think of to entice consumers to spend even more of their holiday shopping dollars online.
Amazon.com (AMZN, Fortune 500) spokesman Craig Berman said its wireless Kindle e-reader was the "best-selling item across all of Amazon's product categories on Monday."
"This November has become the biggest month for Kindle sales since we launched the product two years ago," Berman said. But he declined to disclose how many Kindle units have been sold over that period.
Also, Berman said the e-tailer sold out of its Cyber Monday deal of the day, which was an 8GB iPod Touch for $158.
Other hot sellers Monday included the hugely popular Zhu Zhu pet hamsters, which are sold on Amazon through third party vendors.
Although the retail price of each hamster is $9.99, Berman said some of the hamsters, such as Mr. Squiggles, were selling for as much as $63 each.
4.3 million shoppers a minute
An average of 4.3 million consumers per minute visited shopping Web sites throughout the day Monday in North America, according to Internet monitoring firm Akamai, which tracks traffic trends to more than 270 e-tailers.
The firm, which monitors North American visitors to sites such as American Eagle Outfitters, Overstock.com, QVC.com and eBags.com, said traffic peaked at about 9:30 p.m. ET, reaching 5.1 million visitors per minute.
Pedro Santos, chief strategist for e-commerce with Akamai, said he expects heavy online traffic to continue on subsequent Mondays leading up to the last shipping day before Christmas.
Here's a sampling of what other sellers were serving up to customers.
Walmart.com is offering nearly 150 specials on such items as flat panel TVs, gaming systems and toys as well as 97-cent shipping on laptops, digital cameras and MP3 players.
Wal-Mart (WMT, Fortune 500) said in a statement the deals are being offered through Friday, but only while supplies last.
For book lovers, Barnesandnoble.com is chopping prices by 50% on all New York Times bestsellers and offering a $10 gift certificate for every $100 purchase.
Still, don't expect any special deal on Barnes & Noble's "Nook" eBook reader, which industry experts peg as one of the hottest products this holiday season.
A quick check on the book seller's Web site showed that if you order the Nook Monday, it won't be shipped until Jan. 4. And the "extra" incentive to Nook buyers is free shipping and a free gift certificate.
About 96.5 million Americans planned to shop online Monday, up from 85 million in 2008, according to the National Retail Federation.
Despite these expected traffic numbers and heavy discounts, Cyber Monday is still seen as more of a ceremonial start to online holiday shopping.
The busiest online shopping day tends to be later in December, and is the last day that gifts can be shipped to guarantee delivery by Christmas Day.

Features

These Fortune 100 employers have at least 350 openings each. What are they looking for in a new hire? More

It would be the world's second-biggest economy. See how big companies' sales stack up against GDP over the past decade. More