Google limits free news access
In response to subscription-based news organizations' complaints, Google News will only allow a user five free clicks per day for paid news content.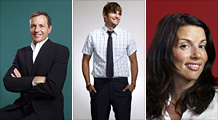 These tech-world luminaries - photographed during our recent Brainstorm Tech conference - aren't just changing the game; they've defined it. Photographs by Robyn Twomey.
NEW YORK (CNNMoney.com) -- Google announced a new policy Wednesday that allows news publishers to limit the amount of subscription content that Internet users can access for free from Google News.
In the existing program called "First Click Free," Google allows participating publishers who offer a subscription-based news service to display the first page of an article that a user accessed through Google News for no charge. If the user then clicks on another link on that page, the user will be taken to a page that requires a registration or subscription.
After discussions with publishers, Google updated the program Wednesday to limit the total number of free clicks for pay news services to five per day for each user. Previously, users could access an unlimited number of subscription-based articles from Google News.
Google (GOOG, Fortune 500) will also begin to label paid content as "subscription" on its Google News service.
"These are two of the ways we allow publishers to make their subscription content discoverable, and we're going to keep talking with publishers to refine these methods," said Google senior business product manager Josh Cohen in a blog post. "After all, whether you're offering your content for free or selling it, it's crucial that people find it. Google can help with that."
The move comes in response to to online newspapers and publishers considering whether to keep articles away from Google's news and Web searches. Rupert Murdoch's News Corp (NWS, Fortune 500)., which offers much of its content on a subscription-only basis, reportedly considered restricting Google from displaying its news articles.
Many other publishers considered so-called "pay walls," Google said, which require a registration or subscription before a user can access the content. Google uses a robotic Web crawling technology to index pages on the Internet, but since its computers cannot type in registration information, pages with pay walls do not get indexed.
Newspaper subscriptions have fallen substantially during the recession, as readers opt to read the same content online, which is typically offered for free. As a result, some news organizations have moved to a subscription-based online service, and many others are considering such a move.

Features

These Fortune 100 employers have at least 350 openings each. What are they looking for in a new hire? More

It would be the world's second-biggest economy. See how big companies' sales stack up against GDP over the past decade. More