More top job changes at GM
Lutz taken out of marketing role, head of engineering becomes president of GM North America.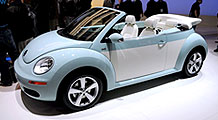 Fuel economy is the name of the game in Southern California.
Find your next Car

NEW YORK (CNNMoney.com) -- In a management shake-up Friday, General Motors acting chief executive Ed Whitacre pulled long-time auto executive Bob Lutz out of his role as head of marketing, putting him in a new role as an advisor on global design and product development.
Lutz retains his title as vice chairmen.
GM also named Mark Reuss president of GM North America. Reuss had been head of GM's Holden division in Australia before briefly taking the role of vice president of engineering.
"I want to give people more responsibility and authority deeper in the organization and then hold them accountable," Whitacre said in an statement.
On Tuesday, Whitacre announced he was taking over as acting chief executive following the resignation of Fritz Henderson as CEO. Henderson had led GM through bankruptcy and in the months following after taking over for Rick Wagoner, who had resigned as part of a government bailout of GM.
Whitacre, an executive who formerly headed telecom giant AT&T, was named chairman of a new, more independent GM board as part of that bailout.
In other management changes, Nick Reilly has been named vice president for GM Europe. Reilly had been leading efforts to restructure GM's Opel division after GM decided to retain full control of Opel in November, changing earlier plans to sell off control of its European subsidiary.
Tim Lee, who had been group vice president for manufacturing and labor relations, has been named president of GM's international operations.
"The elevation of talented younger executives is critical to painting a GM face that is more contemporary, especially as it goes after the huge generation of new young car buyers," said Michelle Krebs, a senior analyst with the automotive Web site Edmunds.com, in a statement released following GM's annoumcement.
Before taking over responsibility for GM's marketing and advertising, Lutz headed GM's global product development. In that role, he has been credited with helping create successful new products for GM such as the Chevrolet Malibu, Buick Enclave, Cadillac CTS and the Chevrolet Equinox.
GM sales chief Susan Docherty will now oversee GM's sales, service and marketing operations. Docherty had replaced Mark LaNeve as head of sales in October, leaving her earlier post as head of GM's Buick and GMC brands.
LaNeve had been responsible for both sales and marketing at the automaker before Lutz took over the marketing job as GM exited bankruptcy in June, so the sales and marketing roles are now combined again under Docherty.
Diana Tremblay was named vice president for manufacturing and labor relations, and Denise Johnson was named vice president for labor relations.

Features

These Fortune 100 employers have at least 350 openings each. What are they looking for in a new hire? More

It would be the world's second-biggest economy. See how big companies' sales stack up against GDP over the past decade. More