Job market shows big improvement
November job losses fewest since start of the recession. Unemployment rate decline is biggest in more than three years.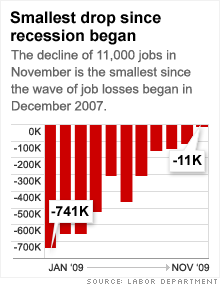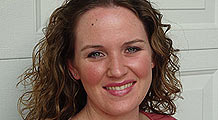 In August, CNNMoney asked nine recent grads about their job search. Six months after graduation, all of them are working at least part-time.
Millions of job openings!
NEW YORK (CNNMoney.com) -- The long-suffering U.S. jobs market improved significantly in November, as employers trimmed the fewest jobs of any month since the start of the recession, and the unemployment rate posted the biggest one-month decline in more than three years.
U.S. payrolls slipped 11,000 jobs in the month, far below any of the job losses posted over the last 23 months. Economists surveyed by Briefing.com had forecast a loss of 125,000 jobs in November.
The October and September job loss estimates were also revised sharply lower, trimming previous job loss estimates by 159,000 between them.
The new reading put October job losses at 111,000 jobs, and September's loss estimate was cut to 139,000. Each of those new estimates would have been the smallest declines in more than a year.
The unemployment rate improved to 10% in the month. Economists had forecast it would remain at the 10.2% level reached in October, which had been a 26-year high. The unemployment rate had risen in 12 of the previous 13 months before November.
"I think it's a little bit premature for champagne, but after enduring two years of really bad news, let's enjoy this one," said Jay Bryson, economist with Wells Fargo Securities. "You've got to walk before you start running. I don't think we're walking yet, but we're starting to get back up on our feet."
Long-term unemployment remains gloomy. Still, the number of jobs lost -- even with the lower revisions -- since the start of 2008 is 7.2 million. And that only captures the net loss of jobs, and doesn't give a full picture of the large pool of those without work or income.
The report showed 15.4 million Americans are now unemployed and seeking work, although that's down 325,000 from the October reading. Another 6 million want jobs but are not counted as part of the labor force because they have stopped looking.
Add to that group the 9.2 million who have only found part-time work when they want full-time jobs or have had their hours cut as a result of the downturn, and that brings to 30.6 million Americans who are not able to find the full-time job they want or need.
The long-term unemployment problem was worse in November than at any time in the 61 years those records have been kept. A record 5.9 million people have been out of work for more than 6 months, as the average length of time those with work have been without a job rose to 28.5 weeks.
Rises in work week, temp hiring. Still, there were signs of good news in the report beyond the overall drop in unemployment and sharp decline in job losses. One is that the average work week increased to 33.2 hours from a record low of only 33 hours in October, a sign that employers who had cut the hours of their workers were starting to restore those hours.
The jump in work week meant the total number of hours worked by American workers increased by 0.6%, the biggest such jump in three years, which was crucial to help lift the size of paychecks, even as average wages remained relatively unchanged. And that is important for feeding into the recovery in the economy.
"Consumer spending is a function of income, not jobs," said Bryson. "Working people longer hours is a way of creating more income."
Another hopeful sign cited by economists was a 52,000 increase in the number of temporary workers. Typically employers bring on temporary help before they add permanent employees. It was the biggest jump in temporary help in five years.
"The temporary workers and the longer hours, those are signs this is finally going in right direction," said Tig Gilliam, CEO of Adecco Group North America, a unit of the world's largest employment staffing firm. "Now we need to get to creating 200,000 to 300,000 jobs a month. That's what it'll take to get improvement in labor market. It's very possible it can be in the second quarter of next year."
White House still concerned. The report came the day after the Obama administration held a "jobs summit" at the White House, during which business leaders, economists and policymakers discussed what could be done to end the job losses.
President Obama continued to focus on the job situation during a trip to Allentown, Pa., Friday, at which he toured Allentown Metal Works and a community college. He said he would announce additional measures Tuesday that he will send to Congress in an effort to jumpstart private sector hiring.
"This is good news, just in time for the season of hope. But I want to keep this in perspective," the president said. "Good trends don't pay the rent. We've got to actually grow jobs and get America back to work as quickly as we can."
Alan Krueger, the Treasury Department's chief economist, said the report and other economic readings show that the layoffs have slowed but that hiring still remains weak.
"The trend of slow healing continues but there is a long way to go before the labor market returns to full health," he said. While Krueger said there are many encouraging signs in the report, "unemployment remained unacceptably high."
Republican National Committee Chairman Michael Steele issued a statement pointing out that the economy has lost 2.8 million jobs since the Obama administration passed its economic stimulus bill in February, and that the unemployment rate remains in double digits.
"If President Obama is truly interested in job creation, then he should stop campaigning for re-election, stop pushing 'Stimulus II,' and start working with Republicans on common-sense conservative solutions," said Steele.

Features

These Fortune 100 employers have at least 350 openings each. What are they looking for in a new hire? More

It would be the world's second-biggest economy. See how big companies' sales stack up against GDP over the past decade. More