Space elevator entrepreneurs shoot for the stars
The improbable-sounding space elevator could reshape the global economy. Are you on board?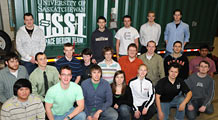 NASA has put up $4 million in prizes for inventors who create the building blocks for an aerospace breakthrough. Meet 4 teams competing in this year's Space Elevator Games.
(Fortune Small Business) -- The annals of entrepreneurship are full of world-changing ideas, pipe dreams and visionary projects plagued by missteps and skepticism. Then there's the space elevator, which is all of the above on steroids.
If you don't know what the heck a space elevator is, you're not alone. In a Fortune Small Business/Zogby International survey of U.S. entrepreneurs, 69% were unfamiliar with the term. Here's how I usually explain it: Imagine spinning around while holding a piece of string attached to a tennis ball. The string goes taut; that's centrifugal force. The same holds true for the rotating Earth. Put a counterweight in geosynchronous orbit, drop down a superstrong equivalent of that string and attach it at the equator. Voila! You have an elevator tether, up which you could run a freight car the size of a 747. (The car would be propelled by a laser beam -- that implausible technology is a column all its own.)
Because it would reduce the cost of getting people and materials to space by roughly 90%, a space elevator would disrupt the $5 billion satellite-launching industry and kick-start the space tourism business. And that's just the beginning. Lift hundreds of tons of stuff into orbit every day, and suddenly all sorts of science fiction ideas become feasible: powering the entire planet with energy from orbital solar power farms, mining the asteroid belt, building zero-G hotels, sailing the solar winds to the moon or Mars, disposing of our radioactive waste by shooting it into the sun -- you name it.
Earlier this year I attended the Space Elevator Conference, held on the Microsoft (MSFT, Fortune 500) campus in Redmond, Wash. It was like a gathering of aircraft inventors in the 19th century: a bunch of obsessives who are used to getting laughed out of the room.
Take conference organizer Michael Laine, who refinanced his home and office building seven times to build a space elevator company called LiftPort, an enterprise he had to mothball for several years and is now restarting. "There's a reason I'm still single," notes the dapper Laine, 42. "Who wants to be with a guy who literally bets the mortgage on a long shot?"
The long shot is getting shorter all the time. In September a team of physics professors from York University in Toronto showed how they could build a tether made of Kevlar and inflate it with helium. The catch: It could reach an altitude of only 12 miles, making it more suitable as a communications tower than an elevator to the stars. (Still, tourists could see the Earth's curvature from the top.)
The main trouble with a true space elevator is that we don't yet have materials strong enough to build the cable. The miracle fiber known as carbon nanotubes is getting stronger by the year and is already being used for body armor. If progress continues at the current rate, we should be able to build an elevator-ready tether in a decade or so. But if not, all bets are off.
Then there's the funding problem (estimated elevator price tag: $20 billion, or about a fortieth of the economic stimulus package). So far NASA has ponied up $4 million toward Elevator: 2010, an annual challenge that consists partly of teams competing to build the strongest tether. Japan's space agency has committed itself to the goal of building a space elevator, which it thinks it can do for $10 billion -- though it hasn't yet set a Kennedyesque deadline.
Most elevator entrepreneurs hope to achieve their dream without government help. So they write papers, construct action matrices, argue over equations and look for ways to fund their work with more readily commercial projects, like carbon nanotube cars and planes.
Mostly they dream of the day when a steel-colored ribbon descends from the sky and finally wipes the smirks off our faces.

To write a note to the editor about this article,
click here
.