CIT rises from the ashes
Emerging from bankruptcy, CIT says it's ready to get back into the small business lending game.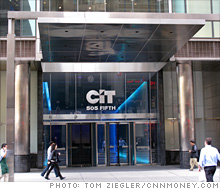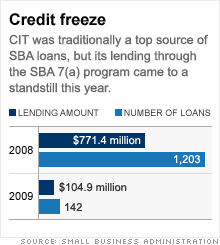 (CNNMoney.com) -- After a 38-day trip through bankruptcy, small business lender CIT Group emerged on Thursday and says it's ready to charge back into the lending fray. Its next challenge: Rebuilding relationships with customers damaged by the bank's struggles.
The Melting Pot once counted CIT (CIT, Fortune 500) as one of its preferred lenders. The fondue franchise has 145 restaurants in 37 states, and opened more than a dozen new outposts each year in 2007 and 2008. But as CIT's troubles deepened, its lending to franchise operators -- once a core part of its customer base -- came to a near standstill.
None of the seven Melting Pot franchises that opened this year borrowed money from CIT, or any other national bank: "We didn't do one loan with a major player," said Dan Stone, director of franchise development for Tampa, Fla.-based Melting Pot.
The CIT account representative that worked with Melting Pot has left. "Even if things turn around, we've lost that relationship and knowledge of our concept," Stone said. "We have to start over again."
CIT will be starting over with many customers. In 2008, it was the top lender through the Small Business Administration's flagship financing program, investing $771 million to fund more than 1,200 loans. But this year, as CIT struggled unsuccessfully to avoid bankruptcy, its lending dried up. In the SBA's 2009 fiscal year, which ended Sept. 30, CIT funded just 142 loans, totaling $105 million.
Now CIT says it's ready to reopen its coffers. The bank announced this week that it has $500 million in funding available to make SBA-backed loans this year. To win back potential customers, CIT plans to waive packaging fees for the loans for 90 days starting Monday.
Given that CIT was the No. 1 SBA lender in the U.S. for nine years straight, people should have no qualms about seeking financing from the company now that it's back in the lending business, said Chris Reilly, president of CIT Small Business Lending.
"We have the infrastructure to lend that much money," she said. "The team and I are pretty confident the demand is out there. Realistically, I think there is going to be a lot of competition for loans."
Financing the retail supply chain
While the SBA-backed loan program took a hit, CIT Group's factoring business -- a type of financing that lets companies borrow against their customer invoices -- remained relatively unscathed.
An estimated 2,000 manufacturers rely on CIT's factoring services to finance the goods they supply to some 300,000 retailers. That cash pipeline kept operating through the past year and was unaffected by CIT's bankruptcy. But there, too, CIT has some rebuilding to do.
The company pumped $23.7 billion through its factoring business in the first nine months of 2009 -- down 32% from the same period a year earlier. The weak retail environment reduced demand for CIT's services, but customers have also expressed wariness about running credit balances with a financially strapped lender. In a recent regulatory filing, CIT said that the uncertainty surrounding its business resulted in a "virtual standstill" in signing new business last quarter.
Meanwhile, existing customers took steps to shield themselves from CIT's risks. Hooker Furniture, a home furniture manufacturer in Martinsville, Va., changed the terms of its financing agreement with CIT in July, when it heard the company was considering bankruptcy. Hooker now retains ownership of its customer invoices. Hooker also immediately drew down its entire available credit balance with CIT in July, to avoid losing access to the money.
"It's a better situation for us going forward," said Larry Ryder, Hooker's executive vice president of finance and administration. But with those new safeguards in place, Hooker is happy to remain a CIT customer, he said.
Many customers, like Hooker, changed their financing terms and drew down their credit lines in recent months, CIT said in its filing. The company held credit balances of $898 million for its factoring clients as of Sept. 30, down from $3 billion nine months earlier.
But analysts think CIT has a fighting chance to get back onto solid ground.
As far as bankruptcies go, CIT's was relatively short, and the company was savvy in structuring its reorganization plan, particularly in terms of debt, said Brian Charles, an equity analyst with New York-based brokerage firm RW Pressprich & Co.
The company has not only reduced its debt by $10.5 billion, but has pushed out the maturity of its remaining debt to 2013 and beyond, he said, buying CIT time to reinvest in the parts of its business that will be most profitable.
"They can work off of its existing portfolio and realize the cash flow from that without having to worry about debt maturities in the near term," Charles said. "This gives them the ability to put that back into the business."
The money is ready to flow again. Now CIT has to convince borrowers that it's back in the game.
"We as a company would be willing to work with CIT again," said Dan Stone of Melting Pot. "But I could understand if some franchises were hesitant and, if given the option of going with a local bank that hasn't had as much difficulty, would do that instead."

To write a note to the editor about this article,
click here
.