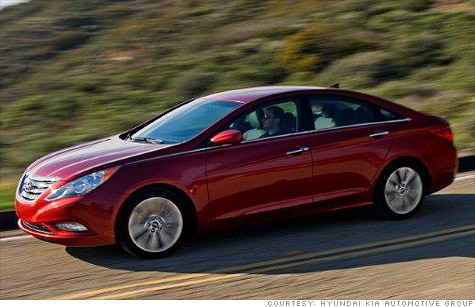 Some Hyundia Sonata owners have complained of a persistent, and recurring, problem in which the steering pulls to the left.
NEW YORK (CNNMoney) -- Hyundai announced Monday that it will fix the steering on new Sonata cars that, some owners complain, have developed a tendency to chronically pull toward the left while being steered straight down the road.
Owners of some 2011 model year Sonata cars will receive a letter from Hyundai, spokesman Jim Trainor said, informing that they should have the car inspected by a Hyundai dealer and possibly repaired. All work will be performed at no charge, Trainor said.
The cars in question were produced between Sept. 1, 2010 and April 30, 2011. In all, there about 41,000 Sonatas on the road that could, potentially, have this problem, Trainor said.
This campaign is not a recall, he said, and the government's National Highway Traffic Safety Administration is not involved. Ordinarily, with a "service campaign" such as this, owners would not be sent letters. Instead, the problem would be fixed, at no charge, only if a customer complained of experiencing it.
Because of the amount of publicity this problem has received, the South Korean-based Hyundai decided to take the additional step of informing owners through the mail so they can have their cars inspected even if they haven't had the problem themselves.
In addition to being discussed on various Internet message boards, with some drivers complaining that the problem recurred even after a realignment, Consumer Reports magazine experienced the problem in one of its test cars.
Several owners who filed complaints with NHTSA also said that the pull kept happening even after dealers had tried to fix it. According to Consumer Reports, its Sonata continued to experience the problem even after the strut was replaced.
Hyundai is now using a different strut, Trainor said.
Under the service program, Hyundai dealers will inspect the cars and, if necessary, replace the front struts with ones of a new design. After that, the wheels will be realigned and the problem should not happen again, said Trainor.
The new front struts are also being used on new Hyundai Sonatas as they are produced at the carmakers' Alabama factory.
The 2011 Sonata has been a critical and sales success for Hyundai. So far this year, Hyundai has sold 27% more Sonatas than in 2010 and the car ranks near the top in Consumer Reports auto test scores despite the reported problem.