With three weeks to go before Election Day, Donald Trump offered a first look at his student loan repayment plan -- and it looks pretty similar to what already exists.
What he proposed would help graduates who are struggling to pay their monthly student loan bills. Under Trump, their payments would be capped at 12.5% of their income. And after 15 years, any remaining debt would be forgiven.
"If borrowers work hard and make their payments for 15 years, we'll let them get on with their lives," Trump said Thursday during a speech he made to high school and college students in Ohio, noting that he hears more questions about student debt on the campaign trail than any other issue besides defense.
If his plan sounds familiar, it's probably because the government already offers an income-based repayment plan for struggling student borrowers. The Obama Administration began a program that caps monthly payments at 10% of discretionary income and forgives outstanding undergraduate debt after 20 years.
Related: Is the government making money off your student loans?
The standard repayment plan for federal loans is 10 years. Borrowers qualify for the income-based program if the capped payment is less than what you would pay under the standard plan.
If that's also how Trump's plan would work, then fewer borrowers might be eligible to qualify. But those who do, could finish paying off their debt sooner.
An income-based repayment plan is a helpful option for grads who haven't landed a good-paying job yet and can't afford their monthly payments. It helps them avoid default. But it's possible that you end up paying more in interest over the life of the loan by using the income-based plan.
Under Obama, there are several versions of the repayment plan. The government forgives remaining debt for undergraduate borrowers after 20 years, but those who borrowed for graduate school must make 25 years of payments before their loans are forgiven.
His administration also offers student loan forgiveness after 10 years for people who work for the government and non-profit organizations.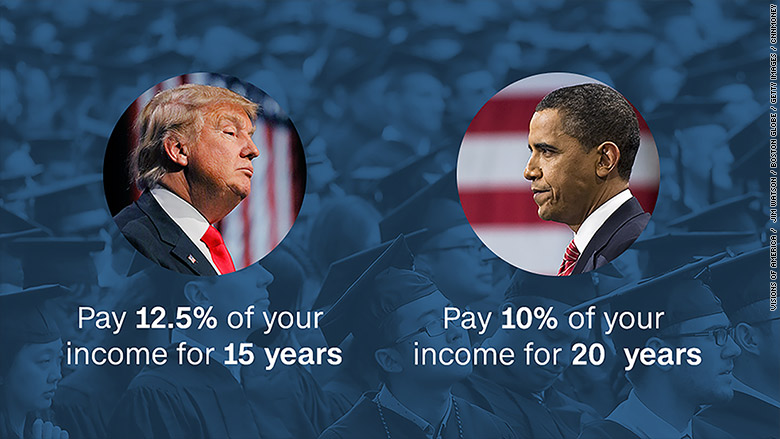 Related: Would you get free tuition under Hillary Clinton?
Trump's campaign did not offer any more details about his proposal, or estimate how much it would cost. When pressed, a campaign aide said "the plan will be paid for by lowering federal spending on ever-rising college tuition and fewer defaults on student loans."
Hillary Clinton, who released a comprehensive college affordability plan earlier this year, also supports an income-based repayment plan. Her proposal calls for capping payments at 10% of income and forgiving remaining debt after 20 years -- just like current policy.
She also said she would allow borrowers to refinance their federal student loans at current interest rates. Currently, qualifying borrowers can only refinance with a private lender. Under Clinton, undergrads who borrowed a federal loan in 2008 at a 6.8% interest rate, would potentially be able to refinance at the current rate of 3.76%, for example.
The biggest part of Clinton's proposal is to make debt-free college available to everyone and make state colleges tuition-free for students whose families earn less than $125,000 a year.
According to her campaign, the plan will cost $350 billion over 10 years but will be "fully paid for by limiting certain tax expenditures for high-income taxpayers."
About 40 million Americans have student loan debt, and 11.3% of recent grads default within three years of leaving school.